Skip to content
Skip to navigation menu
Eliminall Cat Spot On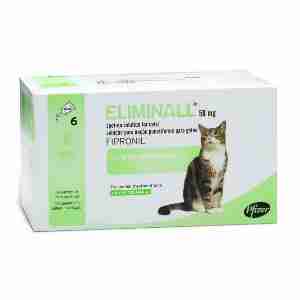 **This product requires a prescription in Republic of Ireland and cannot be shipped to Denmark**

Eliminall Spot on Cat is for the treatment and prevention of flea and tick infestations in cats. Fleas will be killed within 24 hours.

Eliminall has a persistent insecticidal efficacy for up to 4 weeks against fleas and acaricidal efficacy for up to 4 weeks against Ixodes ricinus and for up to 1 week against Dermacentor reticulatus and Rhipicephalus sanguineus. Ticks will usually be killed within 48 hours. However, if ticks of some species (Dermacentor reticulatus and Rhipicephalus sanguineus) are present when Eliminall is applied, all the ticks may not be killed within the first 48 hours but they may be killed within a week.

Eliminall can be used as part of a treatment strategy for the control of Flea Allergy Dermatitis (FAD), where this has been previously diagnosed by a veterinary surgeon.
Vet's Advice:
What is the best treatment for dogs with Flea Allergy Dermatitis (FAD)?
If your cat is suffering from a skin complaint, only your vet can provide a diagnosis and treatment plan. Your vet may have to carry out some diagnostic tests to determine the cause of the skin issue. If FAD is diagnosed, you need to be extremely vigilant to prevent flea infestations.
Since your goal is to prevent bites from occurring in the first place, you should use a product that kills adult fleas and also eliminates as many stages of the flea's life cycle as possible. This involves using both an adulticide and an Insect Growth Regulator (IGR) or Insect Development Inhibitor (IDI). These easy-to-use spot-on treatments kill adult fleas and prevent eggs and larvae from developing.
If your cat is on a flea control program and still suffers occasional flare-ups, itching can be controlled with products recommended by your veterinarian.



To ensure that you read the most up to date information about this product, please check the VMD's Product Information Database.
Legal category: NFA_VPS | Eliminall Cat Spot On
Customer reviews
Product reviews are filtered by language.
The following reviews are available in English.
Happy with these

Yes I have been - it is the first time I have used them on my cat - but I haven't any thing negative to day.

Appears to have worked well

My cat is 16, I have always kept flees and ticks away with regular txt. However Ive been unwell picked my cat up and was certain he was inflicted He's clean now with this vial He's still got few mats but that's the thing with Persians

Eliminall Spot on flea treatment

I have used Eliminall spot on for my cats for a while now and found that it really suited them without any side effects, unlike some that I tried before using Eliminall. Very easy to use.

Excellent

Love this product for my cats. Excellent price and service from pet-supermarket.com.

Prescribed by vet

This is what is prescribed for my cat by our vet and has always worked as it should. Buying online is a lot cheaper