Skip to content
Skip to navigation menu
Effipro Dog Spot On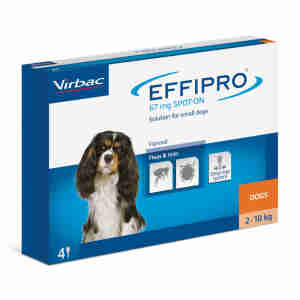 Rollover image to zoom
Product details
Effipro Spot-On for dogs is a simple to use treatment that rids your dog of fleas and ticks. Effipro acts immediately, killing fleas within 24 hours and ticks within 48. Can be used monthly as a preventative. Dogs will sometimes wriggle when you are trying to apply spot-ion, that's why this pipette is made with 'Drop-Lock' technology. This stops the pipette from spilling if it is accidentally knocked out of your hand.
Key features
gets to work straight away
kills fleas in 24 hours, ticks in 48
patented 'Drop-lock' technology to stop treatment spilling
4 weeks of protection from fleas, 2 weeks for ticks
apply monthly for constant protection
If your dog already has fleas, it is recommended that you treat your home to stop re-infestation. Indorex Household Spray can be used and will protect your home for up to 12 months.
Please note: veterinary prescription required for customers in the Republic of Ireland.
Please note: veterinary prescription required for customers in the Republic of Ireland.
To ensure that you read the most up to date information about this product, please check the VMD's Product Information Database.
Legal category: NFA_VPS | Effipro Dog Spot On
Ingredients
One 0.67 ml pipette contains: Fipronil 67 mg, Butyhydroxyanisole (E320) 0.134 mg, Butylhydroxytoluene (E321) 0.067 mg.
Warnings
The product is not suitable for puppies less than 2 months old and /or weighing less than 2kg.
Dosage
Weight kg
1 pipette of ml
2-10
0.67
10-20
1.34
20-40
2.68
40-60
4.02
For dogs over 60kg bodyweight, use two pipettes of 2.68ml.
Customer reviews
Product reviews are filtered by language.
The following reviews are available in English.
Works every time

once applied within 24 hours all itching and signs of fleas were gone so clearly this has worked once again, delivery was quick with no hassle

Good value, effective product

I use this mainly during the summer months. I find it a very effective product against ticks, and is very competitively priced. The odd tick I've found on the dogs was easily removed.

Good value for money

Works well - have never found a flea or tick on my cats and dogs and good value for money. I have recommended this to colleagues who've been equally pleased.

Excellent product

Been using this on our 8.5kg Cyprus Poodle for years and very satisfied. Never any fleas and have only ever found a couple of ticks that have managed to attach themselves, both were dead when found, most die on his fur - and this is in a heavily infested tick area near a farm. If we walk him in the areas where sheep and goats graze we always find a few ticks on him afterwards, most haven't had time to penetrate and are easily removed and killed, while those that we miss die before reaching an area where they can attach. In very bad years we use a stronger product provided by our vet - usually only needed for a month when the ticks season starts, after that the Effipro product keeps him clear, but regular monthly use is essential. Best of all - it doesn't require a prescription.

Fab

One of my dogs had a flea allergy and found the frontline wasnt wrking as well as it used to. Swapped to effipro and wouldnt ever look bk, cheaper and so much more effective. I use it on all my dogs and recommend to all friends and family.