Skip to content
Skip to navigation menu
Effipro Dog Spot On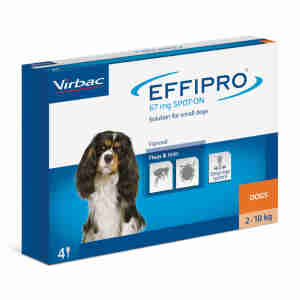 Effipro is an effective treatment and prevention of fleas and ticks in dogs. It is based on new formula of the millionfold deployed agent Fipronil, an insecticide and acaricide belonging to the phenylpyrazole family, which is recognized to be active against fleas and ticks, killing fleas within 24 hour and ticks usually within 48 hours. Fipronil action is fast, effective, and provides lasting protection.

Spot-on flea and tick treatments are not always easy to, well, spot on. Dogs love to wriggle and squirm just after you have opened the pipette. So, the product goes everywhere except where you want it. And if the product is not going where it's needed, then it won't work as effectively as it should.That has all changed thanks to the new Effipro pipette and its Drop-Lock technology.

The pipette is now:
Easy to open - simply snap the top of the pipette.
Easy to apply - gentle pressure will release the product when you and your pet are ready.
Easy to control - innovative Drop-Lock technology ensures that the product goes on your pet and not on you.
Easy to see - clear chamber allows you to see when you have applied the entire product.
Vet's Advice:
It is essential to remember that in all cases prevention is better than cure, so treatment should be carried out regularly all year round.
Please NOTE: this product can be supplied only on a veterinary PRESCRIPTION to the Republic of Ireland.




To ensure that you read the most up to date information about this product, please check the VMD's Product Information Database.
Legal category: NFA_VPS | Effipro Dog Spot On
Customer reviews
Product reviews are filtered by language.
The following reviews are available in English.
Fab

One of my dogs had a flea allergy and found the frontline wasnt wrking as well as it used to. Swapped to effipro and wouldnt ever look bk, cheaper and so much more effective. I use it on all my dogs and recommend to all friends and family.

Glad I found this

My 2 dogs toy poodles were always sick a couple of days after applying Frontline, when it absorbed into their system. Changed to Effipro when I saw it was cheaper and neither of them get sick. So pleased!

Efficient product

Effipro can take a few days to completely eradicate a flea infestation but it does work. I would definitely recommend it.

Excellent value

I've used many products against fleas and ticks over the years and am very satisfied with Effipro. It works as well, if not better, than other brands, even more expensive ones. The only problem is that I cannot use it on a couple of my dogs who weigh under 2kgs, otherwise, I'm completely satisfied and will continue using Effijpro in the future.

Does what it's supposed to

I've used this product after finding it on the net through great reviews I've tried several leading top brands but to no avail so I gave this a whirl and it does work it really does I can't recommend it enough