Skip to content
Skip to navigation menu
You have setup the following Repeat Order: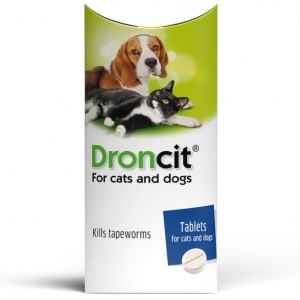 Droncit Tapeworms Cat & Dog Tablets
Product details
For the treatment of adult tapeworms in dogs and cats.
The product is effective against both immature and mature forms of adult tapeworms in both dogs and cats.The product is a highly effective treatment against all the common species of tapeworms infecting dogs and cats in the United Kingdom and Ireland including Echinococcus granulosus, Taenia multiceps, Taenia hydatigena, Taenia ovis, Taenia pisiformis, Taenia taeniaeformis and Dipylidium caninum. Droncit is also effective against Echinococcus multilocularis.
**Prescription needed for orders from Denmark**
Dosage and administration:

The recommended dose rate is 5 mg/kg (1 tablet per 10 kg bodyweight).

Dogs:
2.5-5.0kg - ½ tablet
6.0-10.0kg - 1 tablet
11.0-20.0kg - 2 tablets
21.0-30.0kg - 3 tablets
Over 30 kg pro rata
Cats:
Adult cats ½ tablet

The tablets are administered by opening the animal's mouth and pushing the tablet over the back of the tongue so that it cannot be rejected. Alternatively, a tablet can be wrapped in a piece of meat or butter and offered to the animal or crushed and mixed with the food.
Vet's Advice:
Ways to administer worming medicine:
If you find your dog or cat does not react well to a specific worming method, keep trying alternatives until you find one they like.
There are also a few tricks which may help:

Crushing the tablet and mixing it with food

Disguising the medicine in a treat

Using a pill giver

Following the treatment with a treat (such as a piece of meat) to encourage the dog or cat to swallow
Puppies & kittens should be trained from an early age to be comfortable with swallowing tablets. You can train your pet by using vitamin tablets with treats inside or use specific treats designed to aid in the administration of tablets.




Additional Information
Customer reviews
Product reviews are filtered by language.
The following reviews are available in English.
Works really well

We get out Droncit via subscription and are really happy with the product, it doesn't upset our dogs stomach as other wormers have in the past and the price and the subscription service is excellent.

Hills Science plan

Very helpful on phone and goods always arrive very quickly

Good Service

Easy to order at a good price, goods arrived promptly