Skip to content
Skip to navigation menu
You have setup the following Repeat Order: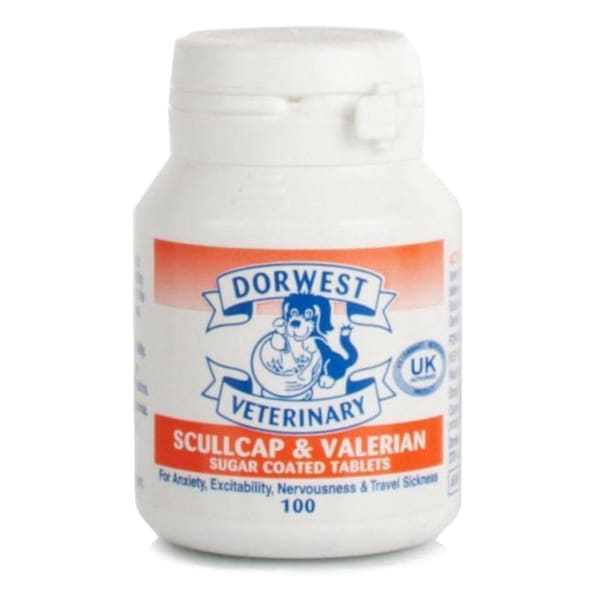 Dorwest Scullcap & Valerian Tablets for Dog & Cat
Dorwest Scullcap & Valerian Tablets for Dog & Cat
Dorwest Scullcap & Valerian Tablets for Dog & Cat
Back in stock notification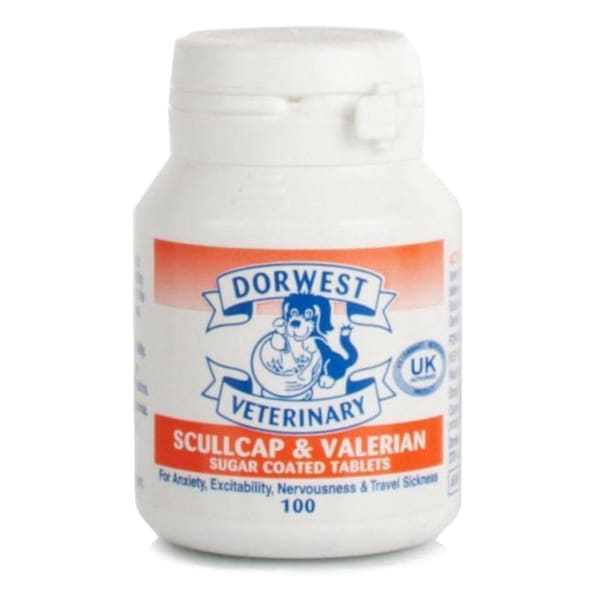 Dorwest Scullcap & Valerian Tablets for Dog & Cat
Dorwest Scullcap & Valerian Tablets for Dog & Cat
Enter your name and email address below then select which items you would like to be notified of when available.
Product details
Dorwest Scullcap & Valerian tablets for dogs and cats is a licensed herbal medicine for the symptomatic relief of anxiety, nervousness, excitability and travel sickness, and an adjunct in the treatment of epilepsy in dogs and cats. It is invaluable to calm and relax dogs and cats suffering from excitability, apprehension, hyperactivity and phobias, such as those from fireworks, thunderstorms or gunfire.

Scullcap & Valerian tablet do not cause drowsiness or impair normal behaviour or performance making it ideal for those needing to be settled for travelling, showing, training or obedience work.
Given prior to a journey will calm nervous travellers and the tablets are useful where new surroundings or situations might cause apprehension or anxiety. In cats, this tablet is also effective to control territorial spraying as the tranquilising effect reduces the impulse to mark territory.
Key features:
Herbal, veterinary approved tablets for the symptomatic relief of anxiety
Calms pets that have phobias of loud noises and situational changes
Tablets do not sedate your pet or cause drowsiness
Sugar coated to help administer
Suitable for short and long term use
Can be given from 8 weeks of age
Not recommended for pregnant or lactating females.
To ensure that you read the most up to date information about this product, please check the VMD's Product Information Database.
Legal category: AVM_GSL | Product Information Database
Ingredients
Active ingredients:

Extract Valerian 5:1 50mg; Extract Mistletoe 3:1 50mg; Scullcap 30mg; Extract Gentian 2:1 24mg.
Dosage:

1-2 tablets per 5kgs bodyweight daily, ideally given as two split doses, depending on the severity of the condition. For use on singular occasions, give 12 hours and 2 hours before event using the higher dosage rate.
Use during pregnancy and lactation: Not recommended
Age from which can be used: 8 weeks of age
Interactions: Can be given in conjunction with any other medication
Long or short term use: Both as the condition requires.
Special warnings: Epilepsy should only be treated in consultation with a veterinary surgeon
Sugar coated tablet: Yes
Always read the label
Customer reviews
Product reviews are filtered by language.
The following reviews are available in English.
didnt work

I bought this product to calm my anxious 1 yr old cat.After reading reviews from others who purchased,I thought it sounded like what I needed.I started giving it to my cat on day it arrived, as per instructions on bottle.I did it for 3 weeks but nothing changed in my cats behaviour.

Positive effects for us

My cavalier has been on these one tablet a day for just under a week and already seen a difference in him, he's was much more settled staying at family's house while I was away on the weekend and more confident around them where He used to hide under the table from them.

tablets good

Our basset has epilepsy and is on medication every 12 hrs which mostly control it, but we do find she is better on these tablets as well, she has 3 in a morning and 2 later on. They really seem to help

Helps settle my anxious dog

After trying so many things to help my wee dog with her noise phobia & getting worried about the start of firework season I had almost given up hope of finding anything to help her, until now. My wee dog is so much less anxious around loud noises so I have hope that we will make it through firework season without the need for medical help from the vet. My vet is really pleased how well she is now coping so I am hoping that this year the fireworks will be less stressful for my wee girl.

Helps settle my anxious dog

Found something that works at last