Skip to content
Skip to navigation menu
Dorwest Milk Thistle Tablets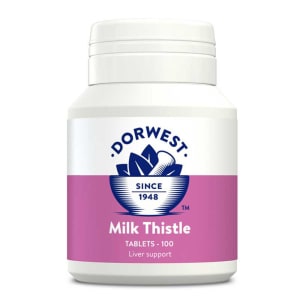 Product details
Dorwest Milk Thistle tablets for dogs and cats is a dietary supplement, that may be used at times when the liver needs extra support. Milk Thistle fruit contains the well documented active ingredient Silymarin which may have hepatoprotective properties. It may also support the liver in several ways, most importantly by scavenging free radicals that are associated with cell damage and transforming them into less harmful compounds.

Milk Thistle is more beneficial when not directly combined with other herbs, and this product stays true to the core principles of herbalism by using Milk Thistle fruit in its entirety, this ensures that as well as gaining the benefits from Silymarin it also retains the 'balancing' effects of the other constituents. The extract in this tablet is the highest quality available which places it in the forefront of natural hepatoprotective products.
Please consult your vet for advice prior to using this product or alternatively call our pharmacy department and speak to one of our vets for advice .