Skip to content
Skip to navigation menu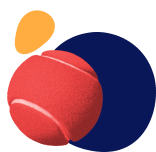 Search for food, toys, supplements, etc.
We've got everything you need for a healthy, enthusiastic cat or dog!
Dog friendly holiday destinations in the UK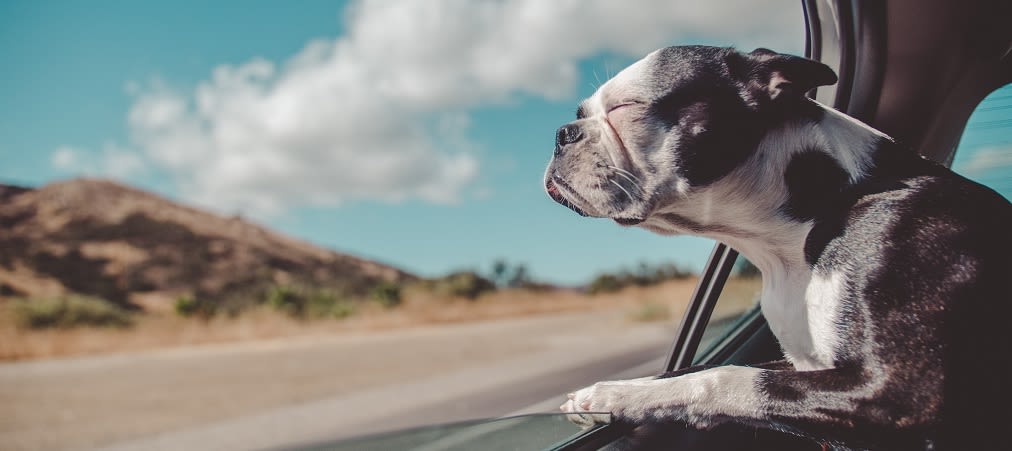 As a nation of dog lovers, we find it almost impossible to go anywhere without our four-legged friends. That means they come with us everywhere, even on holiday! Dogs love the occasional outing to the seaside and exploring new parts of the country with you.

However, we know that it's not always easy travelling with your dog. Tins of food are bulky and expensive, and with all the blankets, grooming kit and food bowls they'll probably end up needing their own suitcase to keep everything in! At MedicAnimal, we've created a range of dog travel accessories, crates and carriers that can make travels with your dog fun and stress-free.

We've also put together a quick round-the-country guide of some of the best dog-friendly spots in the UK, from Scotland to Cornwall. Here are our favourite spots for dog-friendly holidays: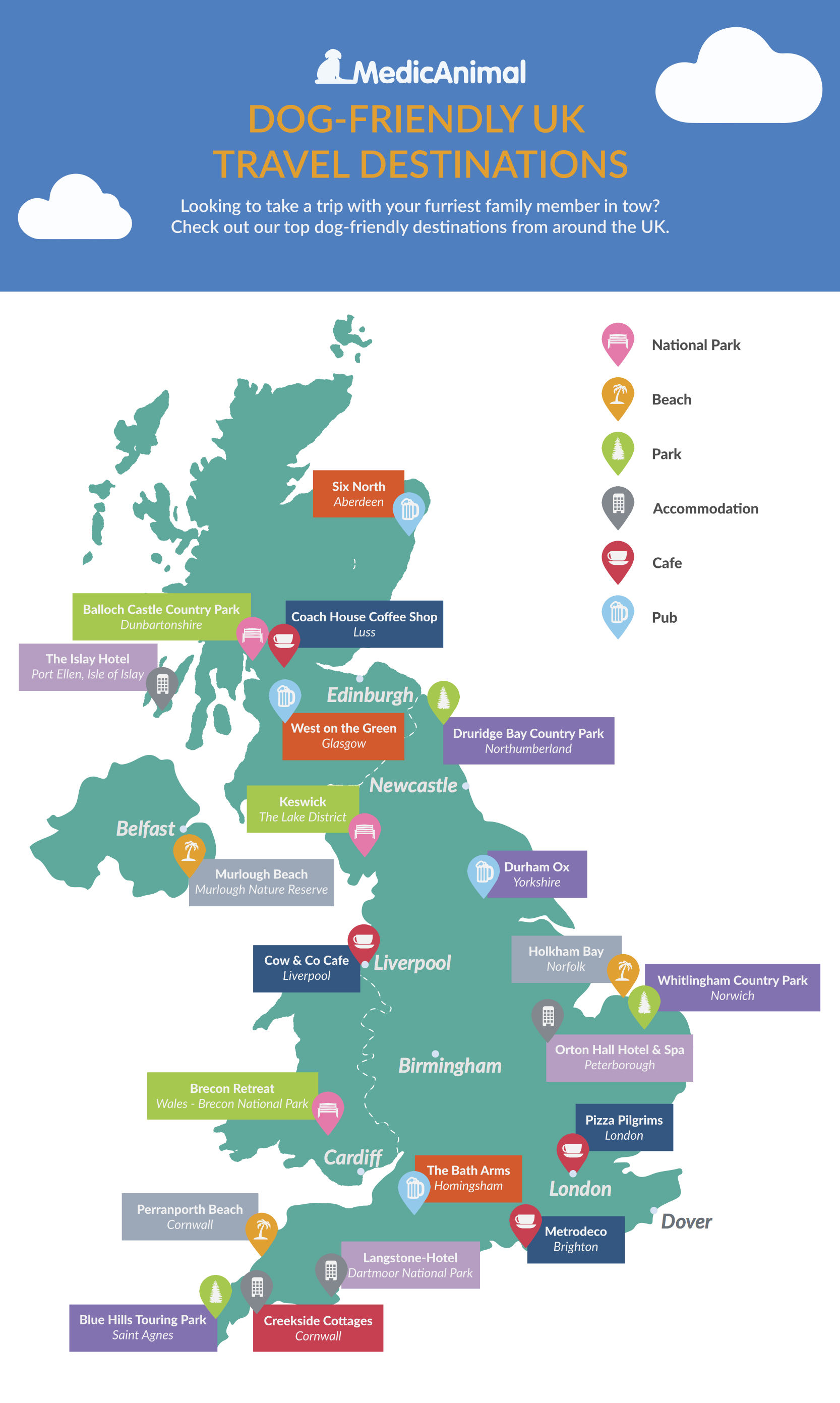 Dog-Friendly National Parks
Keswick, The Lake District- The Lake District has to be one of the very top spots for dog-friendly holidays in the UK. Keswick lies on the eastern edge of the Park and has been voted as the most Dog-Friendly Town in the UK by the Kennel Club. It's a quirky, friendly little town, and dogs are welcome in most pubs, hotels and cafés.
Balloch Castle Country Park, DunbartonshireRight in the heart of this country park sits Loch Lomond, a truly magical spot for walks. The Balloch Country Park covers 200 acres, so there's plenty of room for pups to stretch their legs. Explore walled gardens, nature trails and guided walks.
Brecon Retreat – Brecon National Park – This is one of Wales' top walking spots, offering easy and more challenging routes. The Brecon Retreat luxury self-catering is very dog-friendly, even providing warm running water outside lodges to clean off the mud after those long walks!
Dog-Friendly Beaches
Murlough Beach, Murlough Nature Reserve
– miles and miles of golden sand, Murlough Beach is a secret gem that doesn't get the huge crowds of the usual coastal retreats, and is ideal for long walks, summer fun in the sun, and splashing about in the sea.
The reserve also has some wonderful walks, including the park's own Nature Trail. While the beach is definitely pup-friendly, bear in mind that the dunes are incredibly fragile ecosystems, and home to over 600 species of butterfly, so tread lighly!
Holkham Bay, Norfolk – Walk for miles along a sweeping bay, ideal for dogs who love to run or play in the waves. There are no seasonal restrictions and beach is open for everyone all year round. Perranporth Beach, Cornwall – one of the finest beaches in Cornwall and a surfer's paradise, Perranporth is a huge expanse of golden sand. Bear in mind that during July and August you will need to keep your dog on a lead during the day.
Dog-Friendly Parks Druridge Bay Country Park, Northumberland – If your dog loves to run and run, Druridge Bay offersseven miles of sandy beach where they can chase seagulls to their heart's content (don't worry, theseagulls are far too quick to be caught!). For two-legged visitors there's plenty of activities such as surfing (the breaks are some of the best on the east coast), cycle paths, and good facilities. Most nearby hotels are dog-friendly, too.
Whitlingham Country Park, Norwich – With fabulous views and plenty of walking trails around the lake, this is a dog-walker's hot spot. The terrain is flat and easy going, and you can pause for a cup of coffee at the on-site café. Some areas do require dogs to be kept on a lead, so look out for the signs. Blue Hills Touring Park, St Agnes, Cornwall – on the North Cornish coast near St Agnes is this spacious camping and caravanning park. Just moments from the dramatic coastline, the park welcomes well-behaved dogs, and it's just a short walkies to the dog-friendly Trevellas Porth cove.
Dog-Friendly Accommodation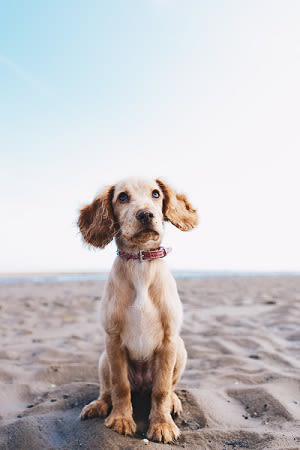 The Islay Hotel, Port Ellen, Isle of Islay - This charming hotel includes a unique walkies opportunity – a 'whisky path' that will take you to the Laphroaig, Lagavulin, and Ardbeg distilleries. It may, however, take considerably longer to walk back... The hotel is a great base from which to island hop via the ferry, and welcomes four-legged guests as well.
Orton Hall Hotel & Spa, Peterborough – This 17th century country manor is surrounded by 20 acres of parkland, and welcomes well-behaved dogs, although you will need to book ahead if you want to take your dog with you. After a long walk around the grounds, relax in the hot tub or get pampered in the spa.
Langstone Hotel, Dartmoor National Park – The wilds of Dartmoor are right on your doorstep at this elegant spot that was also once home to the poet Coleridge. Offering everything from static caravans to cottages and apartments, it's a dog-friendly complex with plenty of space for your pup to run around.
Creekside Cottages, Cornwall – with sites across the southern tip of Cornwall, Creekside offers family and pet-friendly accommodation right on the coast. You're just minutes from the South West Coastal Path, so it's perfect for long walks with your dog.
Dog-friendly Restaurants and Cafés
The Coach House Coffee Shop, Luss – Tucked away on the banks of Loch Lomond, this is a quirky, characterful café with plenty of charm. It's a great spot for a mid-morning coffee and some truly delicious home-made cakes. Dogs welcome.
Cow & Co Café, Liverpool – How about relaxing with a cup of coffee and a bun while your dog gets a pampering? This Liverpool café is right next door to a dog grooming parlour, making it the perfect stop for the smartest pups and their owners. Cow & Co offers up a boutique café experience that's dog-friendly too.
Pizza Pilgrims, London – From swinging Carnaby Street and ultra-hip Shoreditch to Covent Garden and West India Quay, Pizza Pilgrims is one of London's trendiest pizza chains. Not only are their pizzas for their human guests delicious, they even do one for dogs too! Metrodeco, Brighton – Take afternoon tea in glorious vintage surroundings at this exclusive tea room. The style is pure 1930s, and the afternoon tea experience comes complete with a stack of cakes. Well-behaved dogs are welcome.
Dog-Friendly Pubs
Six North, Aberdeen – on the wild Aberdeen coastline sits Six Degrees North, the Scottish home of Belgian beer! An ever-changing menu of craft beers and some great bar snacks makes this a popular stopping point for trail-weary ramblers and their pups.
West On The Green, Glasgow – Travels with your pets can include some city breaks too, and this pub in the heart of Glasgow is dog-friendly, and perfect for family dinners. Don't expect haggis, neeps and tatties here, though - the German-inspired menu offers up some unusual and delicious continental dishes instead.
Durham Ox, Yorkshire – This dog-friendly, 300-year-old pub sits right in the middle of some of the best walking trails in Yorkshire. It's stuffed full of unique features, and is more than happy to offer up four-legged guests an extra treat or two, and a warm fire to curl up in front of at the end of a long day's exploration.
The Bath Arms, Homingsham – Close to the ancient city of Bath, this charming pub is the perfect stopping off point for you and your dog when you're exploring the surrounding countryside. The pub offers cosy accommodation too, for both human and canine visitors.