Skip to content
Skip to navigation menu
Denes Low Calories Dog Food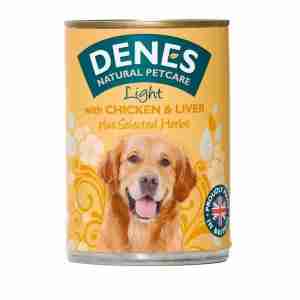 Rollover image to zoom
Product details
Denes Light Dog Food uses a reduced calorie recipe that is low in salt and high in fibre. Perfect for dogs that are prone to weight gain.
How it works
Denes foods contain only high quality, natural ingredients, with the added benefit of herbs to provide the most convenient and practical way of feeding a diet that closely follows the principles of natural rearing. Herbs not only supply natural flavours and improve aroma, but also promote good health. All Denes foods are free from artificial colours, flavourings and preservatives and do not contain any soya protein or added salt.
Key benefits
wholesome ingredients
cereal free
no added salt and sugar
suitable for dogs with gluten intolerance
no artificial flavours or preservatives
The range provides complete balanced diets suitable for all dogs of all ages and lifestyles. Denes has promoted a natural and healthy lifestyle for cats and dogs since 1951.
Ingredients
Light with Chicken and Liver plus added herbs
Fresh pork 12%, fresh chicken 8%, wheat, fresh pork liver 4%, dried chicken 3%, carrots, minerals, herbs (kelp, garlic, and parsley).
Typical Analysis
Moisture
78%
Vitamin A
1, 000iu/kg
Protein
6%
Vitamin D3
100iu/kg
Oil
4%
Vitamin E
10mg/kg
Ash
2%
Copper
Fibre
1. 5%
(as cupric sulphate)
4.2mg/kg
Feeding Guide
Feeding guide per day

Toy (up to 5kg)

1/2 a can

Small (5-10kg)

1 can

Medium (10-20kg)

2 cans

Large (20-40kg)

4 cans
Customer reviews
We're sorry but there are no reviews of this product in English.