Skip to content
Skip to navigation menu
Cosequin DS Double Strength Sprinkle Capsules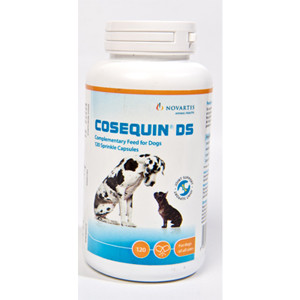 Product details
Cosequin Double Strength (DS) Sprinkles are a nutritional supplement for supporting joint function in dogs. It contains a unique combination of active ingredients that support the cartilage. It's advantage over many joint care supplements is the capsules come in sprinkle powder form allowing you to give Cosequin easily to your dog.

Three main ingredients in Cosequin Sprinkle support normal joint function:
Glucosamine Hydrochloride supports the secretion of GAGs (Glycosaminoglycans) produced by cartilage cells from glucose.
Chondroitin Sulphate binds with collagen for tensile strength and control of water content.
Manganese Ascorbate, if deficient, greatly decreases the tensile strength of the fibres.
Cosequin Double Strength (DS) Sprinkle Capsules have been designed for medium to larger breed dogs.

Directions:
Cosequin Double Strength Sprinkle Capsules can be administered by pulling apart the capsule and sprinkling the powder onto the food, preferably a wet or moist food.


Dosage
The recommended initial administration period is four to six weeks; however, some dogs may respond sooner. The number of chewable tablets may then be reduced to the maintenance level.
Weight

Number of Tablets

Initial 4-6 Week Period

Maintenance Level▴

10-24 lbs†

1 daily
(1/2 in the morning & 1/2 in the evening)
†under 10 lbs. 1/2 daily

1/2 daily

25-49 lbs

2 daily
(1 in the morning & 1 in the evening)

1 daily

50-100 lbs

3 daily
(2 in the morning & 1 in the evening)

1-2 daily

Over 100 lbs

4 daily
(2 in the morning & 2 in the evening)

2 daily
▴ Once consistent improvement has been seen, these maintenance levels may be reduced to every other day. The maintenance level can also be used long-term on healthy dogs to help support their joints.
Customer reviews
We're sorry but there are no reviews of this product in English.