Skip to content
Skip to navigation menu
Coriander Scratch Post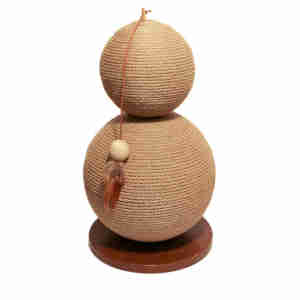 Rollover image to zoom
Keep your cat entertained for hours with this Coriander cat scratching post.
How it works
The spherical design of this cat scratching post adds a new element to playtime. Two domes sit on top of each other with a feathered teaser for your cat to chase. Jute rope covers both spheres, providing your pet with a satisfying surface to get their claws stuck into. A wooden base keeps the post balanced, so they can safely scratch away with enthusiasm.
Measuring 60 centimetres high by 30 centimetres wide, this scratching post is unobtrusive to place in the family home. To keep it clean, simply wipe with a damp cloth or brush off any loose hair. The teaser toy is removable, so you can also use it separately for playtime with your cat.
Key benefits
quirky double sphere design
covered in jute rope for your cat to scratch
removable teaser toy on top
stable wooden base
wipe-clean
measures 60 centimetres by 30 centimetres
When to use it
It's important that house cats get lots of exercise, as they don't have the same space to run, play and jump as their outdoor counterparts. You can encourage your indoor cat to stay active by keeping their interest piqued with new toys like this scratcher.
Cats naturally love to get their claws stuck into surfaces. Having a scratching post like this Coriander model can stop them from damaging furniture, carpets and walls. To get your cat interested in their new scratcher, try sprinkling some catnip over it. This will get their senses going and they'll be scratching their new toy (rather than your sofa) in no time.