Skip to content
Skip to navigation menu
Chudleys Classic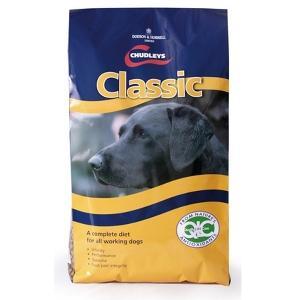 Product details
Chudleys Working Dog Food - Working Classic
Extruded nugget for working dogs that have an increased energy demand. A rich in chicken nugget, Working Crunch has been designed for feeding during the working season. The ration is enhanced with key vitamins, amino acids and trace nutrient levels as an aid to improve performance, stamina and recovery together with the added benefit of a coat conditioning package. Our unique blend of Mobility herbs is also added to the diet to nutritionally support the musculo-skeletal system. VAT exempt.
Performance is a meaty, crunchy nugget which has been formulated for dogs working at the highest level.
Containing a blend of cereals with a low glycaemic response, it also provides an increased proportion of energy from fat which has been shown to enhance stamina, ability to work and improve the rate of recovery. The fatty acid profile within Performance may also help to promote scenting ability ensuring your dog is in peak condition.
A blend of herbs are also added which are reputed to nutritionally maintain correct liver function. With a package of nutrients and ingredients reported to be helpful in the maintenance of joint condition.
Chudleys Dog Food
As an owner you want to provide your dog with everything he needs to help him lead a long, happy and active life.

Since Chudleys Original was first manufactured back in 1976, we've gone on to develop a range of feeds that meet the needs of both pet and working dogs. With a mixture of flavours, muesli and extruded nugget diets to choose from, you can rest assured that whatever the shape or size, age or breed of your dog, there is a product to suit individual needs.
Chudleys has utilised a wealth of experience, the latest research findings and modern manufacturing techniques to develop a comprehensive range of foods to meet your dog's every need.
Ingredients
Chudleys Working Dog Food - Working Classic
Ingredients
Wheat, chicken meat meal, maize, chicken fat, barley, rice, chicken liver, full fat soya, Unmolassed beet pulp, dicalcium phosphate, yeast, salmon oil, blackcurrant extract, taurine, seaweed, with EC permitted antioxidants; mixed tocopherols, vitamin C and rosemary extract.
Nutrient Analysis
Protein 19. 0%
Oil 10. 0%
Fibre 3. 5%
Ash 6. 0%
Vitamin A 12, 000 iu/kg
Vitamin D3 1, 200 iu/kg
Vitamin E 220 mg/kg
Copper 18 mg/kg
Customer reviews
Product reviews are filtered by language.
The following reviews are available in English.
My black lab bitch is now eleven and a half and has been on this food since she was one year old. She has worked on shoots both beating and picking up (only picks up now as she is older) and is as good as ever. She has thrived on Chudleys Classic food. Good coat, excellent teeth,good stamina and recovery for an older dog and very little stiffness after working.