Skip to content
Skip to navigation menu
Canine Choice Victory Bakes Chicken Dog Treats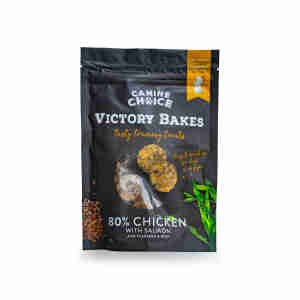 Rollover image to zoom
Product details
Exclusively created by our very own Vet Andrew. For small dogs buy 4 bags to last a month, medium-large dogs buy 8 bags to last a month, save 7% with our multipacks. You will also get 10% off your first repeat order.
These are tasty grain-free dog treats made from over 80% chicken, giving them a deliciously meaty flavour your pup-in-training will go crazy for. What's more, they also come blended with the omega-rich ingredients of salmon and flaxseed. So every time you treat your dog to a Canine Choice Victory Bake, you'll treat their insides to a nice, nutritional boost at the same time.
Measuring 1.5 inches in width, Canine Choice Victory Bakes make the perfect dog treat for bigger breeds. As for those smaller pups, you can easily crumble them into bite-size pieces for easy digestion.
Get a saving on buying a month's worth of treats
If you have…

We suggest you could add each month…

Then you save…

small dog or small-medium puppy*

4 bags

7% when you buy our multipack. You will also get 10% off your first repeat order

medium dog or large dog / puppy**

8 bags
* small dog <10kg
small-medium puppy -6 weeks to 12 months
**medium dog 11-25kg
large dog 25kg+
large puppy 6 weeks to 15 months
Ingredients
Composition:
Chicken (80.8%), Vegetable Glycerin (8.28%), Flaxseeds (4.14%), Salmon (4%), Salt (1.6%), Dried Kelp (1.05%, Rehydrates to 4%), Sunflower Oil
Analytical Constituents:
Crude Protein (34%), Crude Fat (22%), Crude Ash (7%), Crude Fibres (3.5%), Moisture (22%)