Skip to content
Skip to navigation menu
Add to an existing Repeat Order
Add to an existing Repeat Order
Licensed item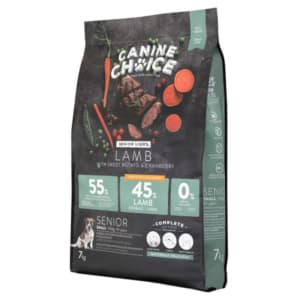 Canine Choice Senior Light Small Grain Free Dog Food Lamb
This is a licensed item so for regulatory reasons and to ensure we are providing the best product for the health of your pet, we need to ask you to confirm a few details.
Please confirm the type of animal you will be giving this licensed product to:
I am aware of the relevant safety precautions relating to the licensed products.
I will read the packaging and product literature before using any licensed products, and will use all licensed products according to the manufacturer's datasheet
I am not buying for resale and I am happy to be contacted if required
I confirm that the animal the licensed products will be given to is in general good health
I confirm that the animal the licensed products will be given to is NOT pregnant or lactating
Add to an existing Repeat Order
Licensed item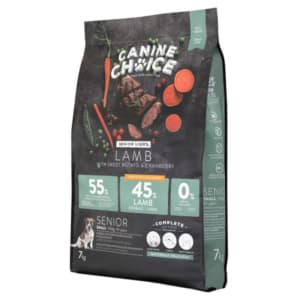 Canine Choice Senior Light Small Grain Free Dog Food Lamb
This is a licensed item so for regulatory reasons and to ensure we are providing the best product for the health of your pet, please read and confirm the details below:
By purchasing this product, you confirm your pet has been examined by a vet who has recommended the use of this food on the basis of examination and diagnosis.
You understand it is recommended while your pet is being fed this product, you seek veterinary advice at least every 12 months regarding the usage of this food and the on-going care of your pet.
Should your pet's condition deteriorate in any way while using this product, seek immediate veterinary advice.
Add to an existing Repeat Order
You are adding: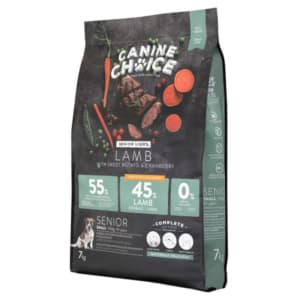 Canine Choice Senior Light Small Grain Free Dog Food Lamb
To the following repeat order:
Next order due on:


Delivered every
ending
Add to an existing Repeat Order
Thank you, we have updated your order. Your order is due on
You're setting up the following repeat order: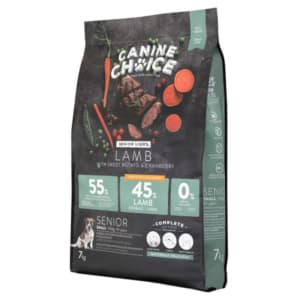 Canine Choice Senior Light Small Grain Free Dog Food Lamb
Canine Choice Senior Light Small Grain Free Dog Food Lamb
Product details
Canine Choice Senior Light Small is a complete grain-free dry food for older dogs (from 9 years of age) of small-sized breeds (under 10 kg). It has a high proportion of meat (45%).
Older dogs burn less energy than their younger friends. Their diet should therefore contain fewer calories to avoid unnecessary weight gain. They will also benefit from a diet rich in vitamins that boost their immune system and a higher amount of fibre, which facilitates digestion. This is exactly what's in our formula, together with 45% lamb (the highest percentage of meat our vets recommend for older dogs).
Product benefits
45% meat
Energy content adjusted to the metabolism of older dogs (9+ years) of small-sized breeds (under 10 kg)
L-carnitine to maintain a healthy fat/muscle ratio
Cranberry, rosemary and rosehip to support the immune system
Prebiotics, probiotics, chicory and camomile to improve digestion and relieve irritation
Parsley for fresh breath
Sweet potato and peas to provide valuable fibre and vitamins
Glucosamine and chondroitin for healthy joints
Omega 3 & 6 fatty acids and minerals to promote a shiny coat and healthy skin
Yucca schidigera to reduce unpleasant stool odor
A grain-free formula
No soy, artificial colours or preservatives
The gentle cooking process preserves all important nutrients
The bag has a resealable zip to keep the food fresh longer
"If you want something done right, do it yourself"– words our resident vet, Andrew, really took to heart when he'd had enough of substandard dog food and created Canine Choice. Dogs don't need cheap fillers and allergens like beef, wheat and soya – they need a meat-rich, high-quality, balanced diet, and pet parents need to know they're getting the best possible value for their money.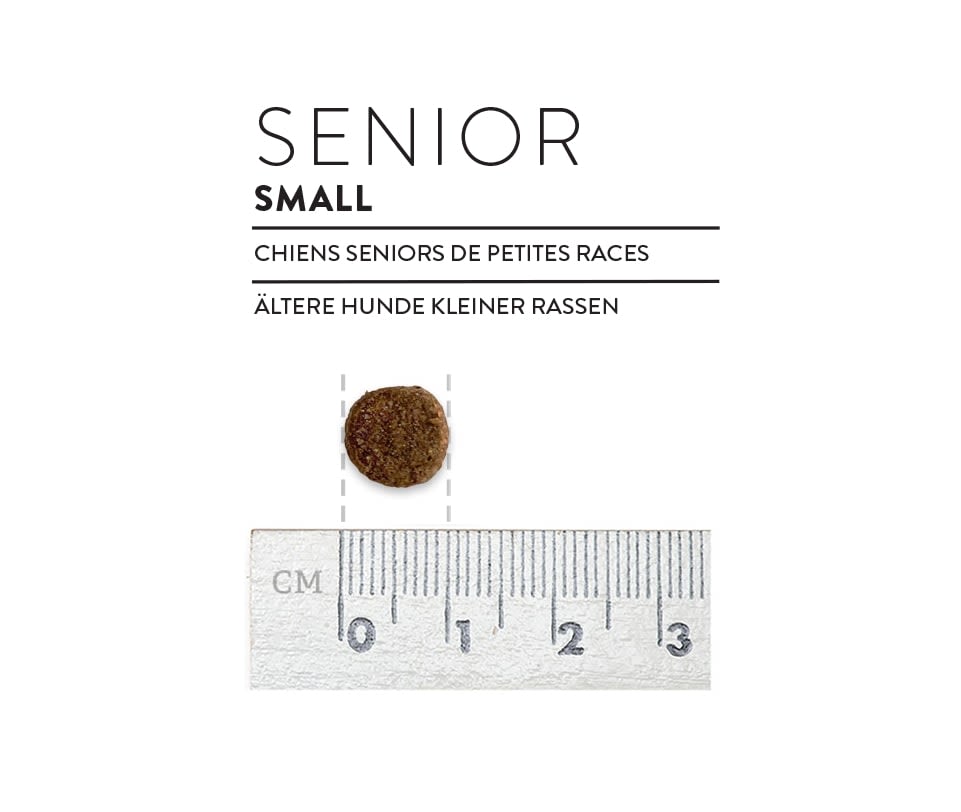 Ingredients
We care about what goes into your dog's tum: Andrew and us on the Canine Choice team put loads of thought, care and expertise into the ingredients so they're worth a read!
Composition:
Fresh lamb (35%), Sweet potato (15%), Pea protein, peas (8%), Dehydrated lamb (7.5%), Apple pulp (7%), Chicken fat, Hydrolysed lamb liver (3%), Fish oil, Brewer's yeast, Minerals, Dehydrated carrots (0.45% equivalent to 4% carrots), Chicory (source of prebiotic FOS) (0.1%), Mannano-oligosaccharides (MOS) (0.1%), Dehydrated cranberry (0.08% equivalent to 0.75% cranberries), Sea algae, Rosehips, Chamomile (600 mg/kg), Cloves, Parsley (600 mg/kg), Rosemary (600 mg/kg), Glucosamine (300 mg/kg), Cartilage (a source of chondroitin 200 mg/kg), Yucca schidigera.
Analytical constituents:
Crude protein 26%, Crude oils and fats 13%, Crude fibres 4%, Crude ash 7.25%, Calcium 1.4%, Phosphorus 0.9%, Omega-3 0.85%, Omega-6 1.3%, Metabolisable energy 3,500 kcal/kg.
Additives:
Vitamin A 20,000 IU/kg, Vitamin D3 1,750 IU/kg, Vitamin E 550 mg/kg, Vitamin C 400 mg/kg, Iron (as iron (II) sulphate monohydrate) 68 mg/kg, Iodine (as potassium iodide) 3.2 mg/kg, Copper (as cupric sulphate, pentahydrate) 9 mg/kg, Manganese (as manganous sulphate, monohydrate) 7 mg/kg, Zinc (as zinc oxide) 108 mg/kg, Selenium (as sodium selenite) 0,11 mg/kg, L-carnitine 300 mg/kg.
Zootechnical additives:
Gut flora stabilisers: Bacillus subtilis C-3102 (DSM 15544) 1,000,000,000 CFU/kg.
Technological additives: Antioxidants: tocopherol extracts from vegetable oils 135 mg/kg.
Store in a cool, dark place, away from wandering noses.
Feeding Guide
If this is the first time you're feeding your dog Canine Choice, it's easy to switch from their current food over the course of a few days. Start of by replacing 25% of their existing food with this one, then increase the amount of the new food by 25% every other day, until they've fully made the switch.
And one last thing – we know a feeding table isn't the most exciting thing to study, but please do take care to read it, as your dog is likely to need a different amount of Canine Choice per day than their previous diet (as it's so full of goodness and energy per gram). As with any diet change, it's good to keep an eye your pet's weight.
Recommended quantity (g/day)

Weight of the dog (kg)

1

2

4

6

8

10

Weight maintenance

26

44

75

101

126

148

Weight loss

23

38

64

87

108

127
Always make sure your furry friend has access to plenty of fresh water.
Customer reviews
Product reviews are filtered by language.
The following reviews are available in English.
Excellent service

Canine Choice Senior small, my dog is doing so well on this food, great coat and he looks forward to his meals

Canine choice senior light small grain free dog food

My little westie Really enjoys this dog food!

Canine Dry Senior Woofer Food

I can't speak personally for this food but my 15 1/2 miniature Dachshund, Coco Chanel, appears to love this product....she also loves the little 'treats' that PetSupermarket pack into my scheduled delivery! Thank you guys!!

Canine dry senior dog food

Good value, great dog food, our 3 male Bichons love it and it keeps their weight under control, the service from Pet Supermarket is also first class, can't fault it.

Great dog food

This is great dog food, our 3 Bichons love it, we tried a more expensive taylor made food which was good, but this food is just as good, but cheaper, ordered CC treats, they love both varieties.