Skip to content
Skip to navigation menu
Canine Choice Senior Light Small Dog Food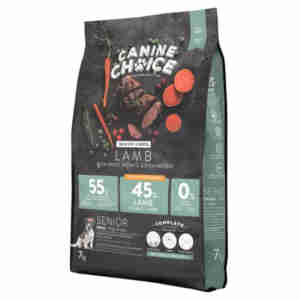 Rollover image to zoom
Product details
Made with plenty of fresh meat and bursting with nutritious, natural ingredients, Canine Choice means feeding your senior dog the best every day.
We all know our older dogs still think they're puppies ("of course I can still chase that pigeon across the park at 90 mph!"), but as they age, their diet may need a few tweaks.
Canine Choice Senior for dogs of small breeds is a complete, high quality small kibble which contains just the right balance of energy and nutrition that older dogs need to keep them active, healthy, and slim. Wise and wonderful canines don't need as much energy as their younger friends, so they need a food that's lower in calories to avoid putting on extra pounds. They also benefit from lots of immunity boosting vitamins and a little more fibre to help their digestion along – all of which you'll find in our senior dog food, along with 45% lamb – the highest meat content our vet recommends for senior dogs.
"If you want something done right, do it yourself"– words our resident vet, Andrew, really took to heart when he decided he'd had enough of substandard dog food and created Canine Choice. Senior dogs (dogs of any age, for that matter) don't need cheap fillers and allergens like beef, wheat and soya – they need a meat-rich, high quality, balanced diet, and pet parents need to know they're getting the best possible value for their money.
Canine Choice offers your old timer..
The right balance of protein and energy for an older dog of small breeds – senior dogs need just enough – but not too much – high quality meat to keep them healthy and trim, so each kibble contains 45% lamb as recommended by our vet
Natural, health-boosting botanicals – to help safeguard your dog against illnesses and take care of digestion, skin & coat, and joint & bone health, including:
Cranberry - Rosehip - Sweet potato - Apple - Camomile - Omega 3+6 - Prebiotics & Probiotics - Parsley - Chicory root - Peas - Rosemary - Yucca Schidigera - Sea Algae
Weight control – we've added the health supplement L-carnitine which helps your dog's body control its ratio of fat to muscle (very clever!)
Dinner with a difference – special cooking means the meat that goes into every kibble can be over 50% fresh, while the gentle cooling process ensures nutrients reach your dog's tummy
The best care for the dog you love starts with a high quality meal, so let's put meat first.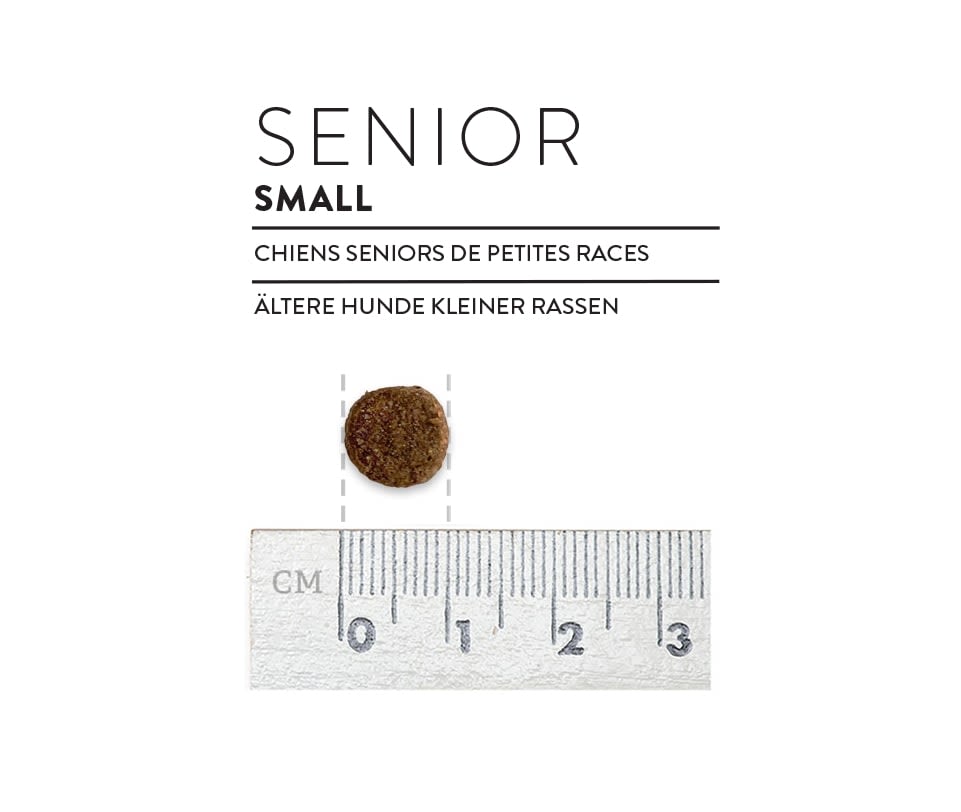 Ingredients
We care about what goes into your dog's tum: Andrew and us on the Canine Choice team put loads of thought, care and expertise into the ingredients so they're worth a read!
Composition:
Fresh lamb (35%), Sweet potato (15%), Pea protein, peas (8%), Dehydrated lamb (7.5%), Apple pulp (7%), Chicken fat, Hydrolysed lamb liver (3%), Fish oil, Brewer's yeast, Minerals, Dehydrated carrots (0.45% equivalent to 4% carrots), Chicory (source of prebiotic FOS) (0.1%), Mannano-oligosaccharides (MOS) (0.1%), Dehydrated cranberry (0.08% equivalent to 0.75% cranberries), Sea algae, Rosehips, Chamomile (600 mg/kg), Cloves, Parsley (600 mg/kg), Rosemary (600 mg/kg), Glucosamine (300 mg/kg), Cartilage (a source of chondroitin 200 mg/kg), Yucca schidigera.
Analytical constituents:
Crude protein 26%, Crude oils and fats 13%, Crude fibres 4%, Crude ash 7.25%, Calcium 1.4%, Phosphorus 0.9%, Omega-3 0.85%, Omega-6 1.3%, Metabolisable energy 3,500 kcal/kg.
Additives:
Vitamin A 20,000 IU/kg, Vitamin D3 1,750 IU/kg, Vitamin E 550 mg/kg, Vitamin C 400 mg/kg, Iron (as iron (II) sulphate monohydrate) 68 mg/kg, Iodine (as potassium iodide) 3.2 mg/kg, Copper (as cupric sulphate, pentahydrate) 9 mg/kg, Manganese (as manganous sulphate, monohydrate) 7 mg/kg, Zinc (as zinc oxide) 108 mg/kg, Selenium (as sodium selenite) 0,11 mg/kg, L-carnitine 300 mg/kg.
Zootechnical additives:
Gut flora stabilisers: Bacillus subtilis C-3102 (DSM 15544) 1,000,000,000 CFU/kg.
Technological additives: Antioxidants: tocopherol extracts from vegetable oils 135 mg/kg.
Store in a cool, dark place, away from wandering noses.
Feeding Guide
If this is the first time you're feeding your dog Canine Choice, it's easy to switch from their current food over the course of a few days. Start of by replacing 25% of their existing food with this one, then increase the amount of the new food by 25% every other day, until they've fully made the switch.
And one last thing – we know a feeding table isn't the most exciting thing to study, but please do take care to read it, as your dog is likely to need a different amount of Canine Choice per day than their previous diet (as it's so full of goodness and energy per gram). As with any diet change, it's good to keep an eye your pet's weight.
Recommended quantity (g/day)

Weight of the dog (kg)

1

2

4

6

8

10

Weight maintenance

26

44

75

101

126

148

Weight loss

23

38

64

87

108

127
Always make sure your furry friend has access to plenty of fresh water.
Customer reviews
Product reviews are filtered by language.
The following reviews are available in English.
Great for my Bichon Frise

My old Poppy loves the biscuits and absolutely thrives on them. She has more energy and stinks less; sorry Pops;.

Finally!

Until now I gave our dog the Senior Medium/Large food, but the pieces are relatively large. Now we can finally feed the right food in the right pieces size. Everybody happy!