Skip to content
Skip to navigation menu
You have setup the following Repeat Order: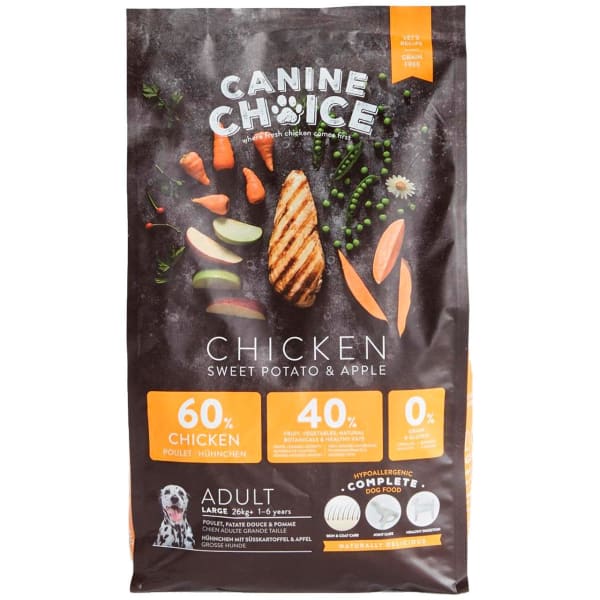 Canine Choice GCanine Choice Grain Free Large Adult Dry Dog Food - Chicken
Canine Choice GCanine Choice Grain Free Large Adult Dry Dog Food - Chicken
Canine Choice GCanine Choice Grain Free Large Adult Dry Dog Food - Chicken
Back in stock notification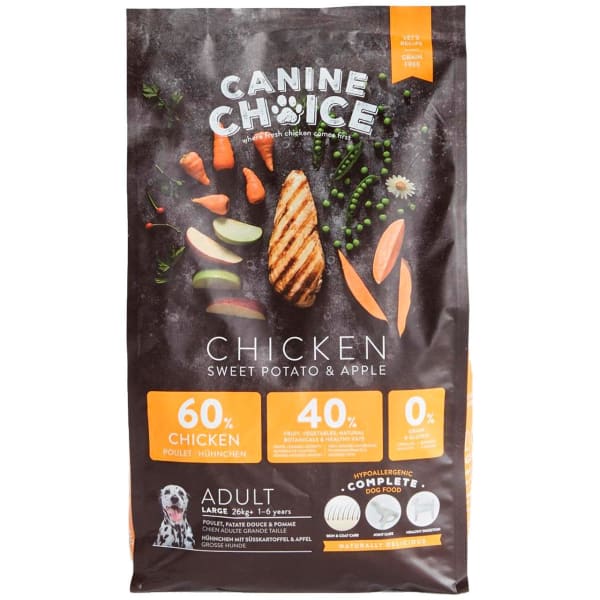 Canine Choice GCanine Choice Grain Free Large Adult Dry Dog Food - Chicken
Canine Choice GCanine Choice Grain Free Large Adult Dry Dog Food - Chicken
Enter your name and email address below then select which items you would like to be notified of when available.
Product details
Canine Choice Adult Large is a complete grain-fee dry food for large-sized dogs of 26 kg upwards. It has a high proportion of meat (60%).
The formula of Canine Choice Adult Large is adapted to the nutrient and energy needs of large dogs. One would not expect it, but resting, large dog breeds burn less energy than their smaller friends. As their metabolism is slower, they should not consume too many calories per kilogram to maintain a healthy body weight.
Product benefits
60% meat
Energy content adjusted to the metabolism of large-sized dog breeds from 26 kg upwards
Cranberry, rosemary and rosehip to support the immune system
Prebiotics, probiotics, chicory and camomile to improve digestion and relieve irritation
Parsley for fresh breath
Sweet potato and peas to provide valuable fibre and vitamins
Glucosamine and chondroitin for healthy joints
Omega 3 & 6 fatty acids and minerals to promote a shiny coat and healthy skin
Yucca schidigera to reduce unpleasant stool odor
A grain-free formula
No soy, artificial colours or preservatives
The gentle cooking process preserves all important nutrients
The bag has a resealable zip to keep the food fresh longer
"If you want something done right, do it yourself"– words our resident vet, Andrew, really took to heart when he'd had enough of substandard dog food and created Canine Choice. Dogs don't need cheap fillers and allergens like beef, wheat and soya – they need a meat-rich, high-quality, balanced diet, and pet parents need to know they're getting the best possible value for their money..
We are brimming with pride that our new Adult Large Food has been rated 4.7 out of 5 by the trusted,
impartial dog food rating site All About Dog Food. Click here to learn more.
Ingredients
We care about what goes into your dog's tum: Andrew and us on the Canine Choice team put loads of thought, care and expertise into the ingredients so they're worth a read!
Composition:
Fresh chicken (40%), Sweet potato (16%), Dehydrated chicken (15%), Peas (9.5%), Apple pulp (6%), Hydrolyzed chicken liver (5%), Dehydrated carrot (0.32% equivalent to 3% carrots), Dehydrated cranberry (0.08% equivalent to 0.75% cranberries), Chicken fat, Brewer's yeast, Fish oil, Minerals, Chicory (Source of FOS), Mannan-oligosaccharides, Camomile, Parsley, Rosehips, Sea algae, Rosemary, Cloves, Glucosamine (350 mg/kg), Cartilage (a source of Chondroitin 250 mg/kg), Yucca schidigera.
Analytical constituents:
Crude protein 27%, Crude oils and fats 16%, Crude ash 7%, Crude fibres 3.25%, Fatty acids (Omega 6) 3.2%, Calcium 1.3%, Phosphorus 0.95%, Fatty acids (Omega 3) 0.4%, Metabolizable energy 3800 kcal/kg.
Nutritional additives:
Vitamin A 19.000 IU/kg, Vitamin D3 1.650 IU/kg, Vitamin E 500 mg/kg, Vitamin C 250 mg/kg, Zinc (Zinc oxide) 108 mg/kg, Iron (Ferrous sulphate, monohydrate) 68 mg/kg, Copper (Cupric sulphate, pentahydrate) 9 mg/kg, Manganese (Manganous sulphate, monohydrate) 7 mg/kg, Iodine (Potassium iodide) 3.2 mg/kg, Selenium (sodium selenite) 0,11 mg/kg.
Zootechnical additives:
Bacillus subtilis C-3102 (DSM 15544) 1 x 1,000,000,000 CFU/kg (Probiotic).
Technological additives:
Antioxidants: Tocopherol extracts of vegetable oils (135 mg/kg).
Feeding Guide
If this is the first time you're feeding your dog Canine Choice, it's easy to switch from their current food over the course of a few days. Start of by replacing 25% of their existing food with this one, then increase the amount of the new food by 25% every other day until they've fully made the switch.
And one last thing – we know a feeding table isn't the most exciting thing to study, but please do take care to read it, as your puppy is likely to need a different amount of Canine Choice per day than their previous diet (as it's so full of goodness and energy per gram). As with any diet change, it's good to keep an eye your pet's weight.
Recommended quantity (g/day)

Weight of the dog (kg)

30

40

50

60

70

80

90

100

Low activity

320

400

470

540

605

670

730

790

Moderate activity

370

460

545

625

700

775

845

915

Intense activity

455

565

670

765

860

950

1040

1125
Always make sure your furry friend has access to plenty of water.
Customer reviews
Product reviews are filtered by language.
The following reviews are available in English.
brilliant food, excellent site and great customer sevice

I was recommended this food for my American bulldog who has a sensitive stomach. I couldn't be happier with his response to the food. He has less stomach upsets and his coat is actually better too. The customer service team are great also. There were some stock problems but they were there, on hand, to help me sort out a repeat order I have. Would definitely recommend.

Stock issues

My Labrador is really happy with the food and great value compared to other brands. However, if they run out of stock nobody else sells this product and then you have a problem!

Brilliant food at a great price

We have had so many issues with our dog and food in the past but this has been absolutely brilliant. He's no longer itchy, he absolutely loves the taste and his digestive issues have resolved too.

Good food great price

Our Spanish mastiff does well on this. Being on repeat makes it so much easier so he doesn't run out.

Quality food and Service

Having researched dried food, I wanted a fish-based product, I've been more than happy with Canine Choice for large breeds. Kibble is a good size that needs crunching by my greedy retriever, his coat is shiny and he digests it well you know what mean!