Skip to content
Skip to navigation menu
Burns Sensitive+ Pork & Potato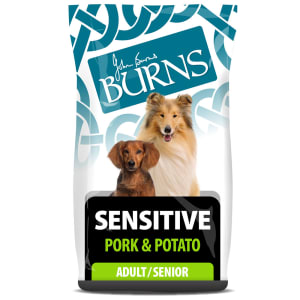 Product details
Burns Sensitive+ Pork & Potato is a complete dog food designed to assist dogs with sensitive digestion or food intolerances.
How it works
This food is especially designed for dogs with allergies. Often, allergies can appear in your pet as a skin condition like dermatitis; removing possible allergens from their food can allow your dog's skin to restore itself. Maintaining healthy, strong skin is essential for combating flea infestations and other health problems.
As a gluten-free food, Burns Sensitive+ Pork & Potato is also ideal for dogs with sensitive digestion, which can be a symptom of gluten intolerance. The food is made without wheat, beef or dairy, all of which can be the source of food intolerance. Dogs are most often allergic to the more common protein sources such as chicken, lamb or fish. Pork is alternative source of protein that your dog may not be allergic to, allowing them to maintain a healthy level of muscle mass and enjoy a healthy, tasty and fulfilling meal.
This product has been designed to be low in fat, helping to regulate your dog's body weight, which can fluctuate if your dog is having digestive trouble.
Key benefit
hypoallergenic formula is easy to digest for animals with allergies
helps to strengthen your dog's skin, restoring its natural barrier function against disease
gluten-free recipe is deal for dogs with a gluten intolerance
low fat formula helps your dog to regulate their body weight.
When to use it
Burns Sensitive+ Pork & Potato is an ideal everyday food if your dog suffers from digestion difficulties or allergies. Left unattended, digestive problems can weaken your dog's internal systems over time and lead to negative long-term health conditions. By switching to a food that takes into account your pet's potential intolerances, you can help to eliminate allergens from your pet's life and reduce the symptoms associated with their intolerance, giving them a vastly improved quality of life.
Customer reviews
Product reviews are filtered by language.
The following reviews are available in English.
Best dog food ever

For the past 7yrs my 3 dogs has enjoyed Burns Sensitive food can recommend highly always enjoyed and eaten well

Good reliable product

my Labradors have always been very happy with this product, it is well balanced and seems to suit their digestion would happily recommend this product. Don't be tempted to buy cheap dog food that have inferior ingredients

Dogs love it!

Both lurchers with almost insatiable appetites make short work of their Burns pork and potato. Best sensitive food we've found and efficient online service from Medicanimal, with reliable deliveries.

Excellent production

This is only food I've found that suits my Akitas sensitive stomach. Value for money and good quality. Deliveries from Pet Supermarket very prompt.

Burns dry dog food

I picked this after researching for high protein food in an attempt to cut down on the amount of waste my two dogs seem to produce. One dog has an exceptionally sensitive stomach, even if she has a different flavour of the same food. I have found this food satisfies all the criteria, having tried various types of brands on the market locally. It is also convenient to have it delivered to the door. It would have 5 stars if it were not for the impatience of the courier, for my disabled wife, who has mobility problems, to answer the door within the 10 second window of time that they allocate to the delivery.