Skip to content
Skip to navigation menu
Burns Puppy Original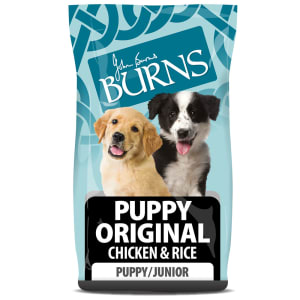 Product details
Burns Puppy Original with Chicken & Rice is a complete hypo-allergenic diet for for the pregnant and nursing bitch and for the larger-breed puppy.
This feed is high energy, suitable for underweight dogs and particularly good for the avoidance of food intolerance.
Key Benefits:
Hypo-allergenic & formulated without Wheat Gluten
No wheat, beef or dairy
Suitable for dogs with sensitive skin
Suitable for dogs with sensitive digestion
Highly Digestible
Economical
Less to clear up
Promotes all-round health and vitality
This food may not be suitable for adult dogs unless recommended by a Nutritionist.
Customer reviews
Product reviews are filtered by language.
The following reviews are available in English.
good stuff

we have a GSD and a cocker spaniel, both 4 months old. I have fed them Burns since we got them at 8 weeks. They both love it, clean bowls every time. they have glossy healthy coats, bright eyes and are full of energy and growing well. recommended to me by a local pet shop. I had a diabetic cocker spaniel in the past who was fed on the usual supermarket brands, bakers etc until she was diagnosed and I am sure this contributed to her illness. Won't make the same mistake again

We kept our pup on this food, because thats what the breader had been feeding her on.

My 7 week old husky was being fed Wagg puppy as that's what he was fed on by the breeders. He kept having diarrhea so for a while I gave him boiled chicken with rice, veg and oats and no more runny bum! Tried putting him back on wagg by introducing it slowly and the diarrhea came back!. After much research I found Burns puppy to contain only good nutritious ingredients unlike wagg, pedigree and bakers!and no more upset tummy for my husky :)

I previously fed my 6 month old Shih Tzu puppy on James Wellbeloved kibble but heard good things about the Burns range, and wanting to feed the best food to my dog I can I decided to swap. My Shih Tzu just doesn't like it, he fed wonderfully on James Wellbeloved, was excited about meal times etc but now he wont even come to his bowl. I don't think there is anything wrong with the food or brand but it just isn't for my puppy and days of persevering with the product hasn't helped.

Changed to Burns after a lot of researching. Excellent food.