Skip to content
Skip to navigation menu
"Best of its kind"
Burgess Excel Adult Rabbit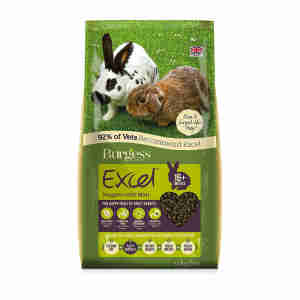 Rollover image to zoom
Product details
Burgess Excel adult rabbit food supplements your pet's diet with added vitamins, minerals, prebiotics and other healthy extras.
How it works
Burgess Excel adult rabbit food is packed with nutrients that your pet might not get from other food sources. The nuggets are high in beneficial fibre, with a fibre level of 39%. The nuggets are designed to prevent selective feeding – a common habit with muesli-style food – where rabbits pick out the sweet bits and ignore the healthier, fibre-packed pieces.
Each nugget is fortified with vitamins and minerals that will help to keep your rabbit's eyes, coat and skin healthy. The food also contains a natural prebiotic to help foster gut bacteria and boost digestive health. With added mint, this supplementary food is tasty as well as healthy.
Key benefits
suitable for adult rabbits aged four months to five years
high in beneficial fibre
nugget style of food stops selective feeding
boosts digestive health with a natural prebiotic
contains added vitamins and minerals to boost coat, eye and skin health
fortified with antioxidants for natural immune system support
contains tasty mint for added flavour
When to use it
Your rabbit's diet should be primarily made up of good quality hay and grass – around 85–90% – with leafy greens and fibre-rich nuggets making up the rest. Nuggets are simply a supplement, so you don't need to feed them much per day. Aim for 20–25 grams per kilogram of bodyweight. Feeding them too many nuggets risks them rejecting the rest of their food, which can lead to weight gain. If you're concerned about your rabbit's size or eating habits, it's best to get in touch with a vet for advice.
Ingredients
Ingredients: Grass, Oat Bran, Wheat, Soya Bean Hulls, Lucerne, Peas, Yeast, Molasses, Mint, Soya Oil, Calcium Carbonate, Monocalcium Phosphate, Ligno-Cellulose, Fructo-oligosaccharides 0.25%, Salt, Vitamins and Minerals, Contains Natural Antioxidants. No artificial colours, flavours or preservatives.
Vitamins are guaranteed until Best Before date.
Customer reviews
Product reviews are filtered by language.
The following reviews are available in English.
5/5

Nice to actually find a good my rabbits would eat, great nutrition and great value.

Highly recommended

Used these since day one of owning rabbits and it's been a brilliant product and worth the money. I use this brand for my dog and Guineas pigs and have no fault with them what so ever!

Great product

Have always used this product for all my rabbits and have always been very satisfied with it. Rabbits enjoy it and is easy to give the recommended amount daily.

Excel Burgess Rabbit Pellets

Great price & quick delivery, I would recommend to friends and family & use them again. My rabbit loves them.

Burst bag

Great product used it for years. Bought off MedicAnimal numerous times. Disappointed with the last delivery bag was split in the box. Five stars is for the product.