Skip to content
Skip to navigation menu
Bob Martin Clear Home Flea Bomb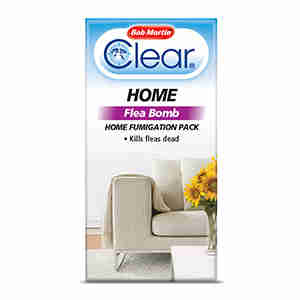 Product details
Bob Martin Clear Home Flea Bomb will treat a room up to 36m3, killing fleas dead. Warm rooms provide a haven for fleas which jump from your pet onto your carpet and soft furnishings. Bob Martin Flea Bomb is an easy and effect way to eliminate fleas.

Key Benefits:
Clinically proven
Easy and convenient way to kill fleas in home
Active ingredient: Permethrin
1 Flea bomb will treat a room up to 36m3
95% of fleas live in the home, so it is essential to treat both your home and pet to eliminate the problem.1 Flea bomb per pack.
Vet's Advice:
Home Management
It is possible especially when the infestation is light, for do it yourself pest control to be effective. Many products are available from veterinary practices, and other locations that can be used to spray your house against fleas. Products have been designed to allow a low concentration of insecticide to be used by untrained homeowners in their own homes. In light infestation type situations these can be quite effective. Most of these products have a low concentration of insecticide and in some cases a growth regulator. As with all products of this type, you must adhere to the direction as to its use, especially in relation to application rates
Hoovering the carpets and furniture will pick up eggs, this is especially important if your pets are allowed to sleep or climb on sofa, bed etc. Cleaning the area where the pet's favourite sleeping place is will remove significant numbers of eggs and larvae, if you use a basket any bedding should be washed in the washing machine (eggs, larvae and adults will not survive this).

How to use Bob Martin Flea Bomb:
Remove all living creatures from the room including plants, animals and especially fish tanks before treatment. Strip beds of bedding if treating a bedroom. Disconnect the power to any smoke detectors for the period of treatment. Close all windows.
Take the Flea Bomb from the carton, remove the seal and lid. Place the Flea Bomb on a fire proof surfae such as a metal plate or brick, centrally in the room. Ignite the wick, leave the room and close the door.
After 2 hours, return to the room and open all windows. Leave the room again for another 30 minutes to ensure aqequate ventilation. Dispose of used Flea Bomb in the household waste. Reconnect the power to smoke detectors.
Statutory Conditions Relating To Use:
For use only as an insecticide. For amateur use.
Vacate the treatment area before application, cover food/food preparing equipment and eating utensils before application
Remove or cover all foodstuffs before application. Do not apply to surfaces on which food or feed is stored, prepared or eaten.
Extremely dangerous to fish and other aquatic life. Remove or cover fish tanks and bowls before application.
Keep in a safe place away from children and sources of ignition.
Dispose of used generator safely.
Read all precautions/warnings before use.
Customer reviews
Product reviews are filtered by language.
The following reviews are available in English.
Bob Martin flea bomb

Impressed with result fleas demolished wasn't a messy job either would defiantly get these again

Flea Bomb

Only used 1 think the flame went out before it had finished but seems to have done the job

I thought this product did not work as I was still getting bitten three days later! It does work though and I tried a few things previous to this. Bloody fab. Does what is says on the tin!

100% happy with this product,having kept our house at a warmer temperature this winter we had a flea problem for the first time.I found fleas around the skirting board under the carpet,Totally resolved having used 'the bombs'

this product worked a treat .. would certainly buy it again If need be