Skip to content
Skip to navigation menu
Bob Martin Clear Flea and Tick Spray for Pet and Home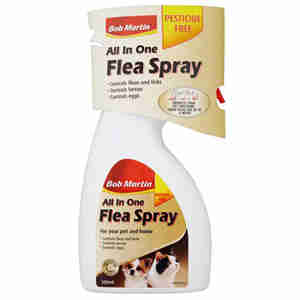 Product details
Bob Martin All In One Flea Spray will protect your pet and your home from fleas for up to 4 weeks. Bob Martin All In One Flea Spray is the only flea spray you will need to control fleas and ticks both on your pet and in your home. This pesticide free spray works in a unique way by immobilising the flea or tick. This unique 'sticky trap' works against fleas and ticks at all stages of the flea lifecycle - larvae, eggs and adult fleas - helping to stop flea infestation.

As with all flea control products, it is very important that you kill the fleas both on your pet and also around the home. Whilst the fleas will probably be visible on your pet, the majority of the fleas eggs and larvae will be less visible in your pet's home environment. This pesticide free spray helps to solve this problem as it is safe to use both on your pet's coat and in your home, when used as directed.

To ensure that you read the most up to date information about this product, please check the VMD's Product Information Database.
Legal category: AVM_GSL | Product Information Database
Customer reviews
Product reviews are filtered by language.
The following reviews are available in English.
Cheap but completely ineffective, cat still has flea problem.

I'm on my second spray and It's had absolutely no effect on my cats or the house.Will not be buying a third!I'm out of pocket and still haven't solved the problem.