Skip to content
Skip to navigation menu
Bob Martin Anti-Bacterial Lightweight Litter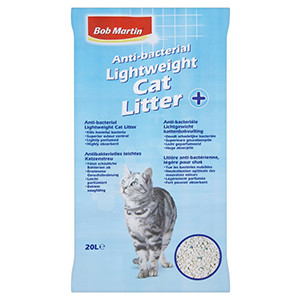 Product details
Bob Martin anti-bacterial lightweight litter keeps your kitty's tray dry, kills harmful bacteria and removes unwanted smells from your home.
How it works
This antibacterial, non-clumping litter absorbs your cat's urine and locks in bad smells as the liquid evaporates. The active ingredient is bronopol, a naturally occurring compound that stops harmful bacterial growth, keeping your moggy's tray safe to use. This lightweight product is also slightly perfumed, giving off a subtle, pleasant aroma and keeping your home smelling fresh.
Key benefits
ultra-absorbent to keep your cat's tray dry
kills harmful bacteria that can lead to illness
neutralises offensive odours
lightly perfumed for a pleasant smell
When to use it
This litter is ideal for use when your kitty stays inside overnight or for those moments when they just can't make it outside in time. When nature calls indoors, you can rely on this cat litter to capture any nasty smells. The mini balls quickly absorb urine and trap unpleasant odours as the liquid evaporates. It's easy to use and maintain. Just fill up your cat's litter tray, up to 7cm in depth, and remove solid waste as soon as possible. Your cat is more likely to use a clean tray, so empty it out regularly – at least once a week – and wash with hot soapy water to avoid accidents.
If you replace your cat's regular litter with this lightweight option, mix it in slowly. As you know, cats are creatures of habit and might stop using their tray if a new litter is introduced without warning. This product should be disposed of with your usual household waste.
Customer reviews
Product reviews are filtered by language.
The following reviews are available in English.
Have been using this for ages now. Very good price for the size of bag. Clumps well so easy to dispose of. Unlike other comments it does promote a lot of dust even though I use a container and covered litter tray and put it in slowly. However, I will still continue to use, just have to dust a bit more!!

Love this stuff. Clumps so nicely. Great price too with free delivery.

Don`t worry about the cheap price, its well worth it! My only complaint would be that the bag is so big, I can`t actually lift it, I had to leave it next to the front door till my boyfriend could move it!

We use the clumping anti-bacterial litter in our Omega Paw Self Cleaning Litter Tray, and is now the only brand we use. No dust when filling up and it clumps brilliantly, and which don`t break up at the slightest movement. Odour control is also good, which is great considering a lot of brands claim to do this but don`t at all. Worth the extra money.

This stuff was brill. no odour, when the cat had urinated it was absorbed almost instantly. No dust came off it as it was loaded into the litter tray.
The granules are slightly larger so be sure to gradually add it to your other litter if those are smaller. That way you cat becomes adjusted to it and they don`t feel like they are walking on stone chips.
Overall a great product but a little more expensive than standard gravel litter.