Skip to content
Skip to navigation menu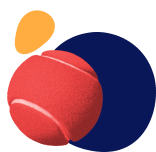 Search for food, toys, supplements, etc.
We've got everything you need for a healthy, enthusiastic cat or dog!
You have setup the following Repeat Order: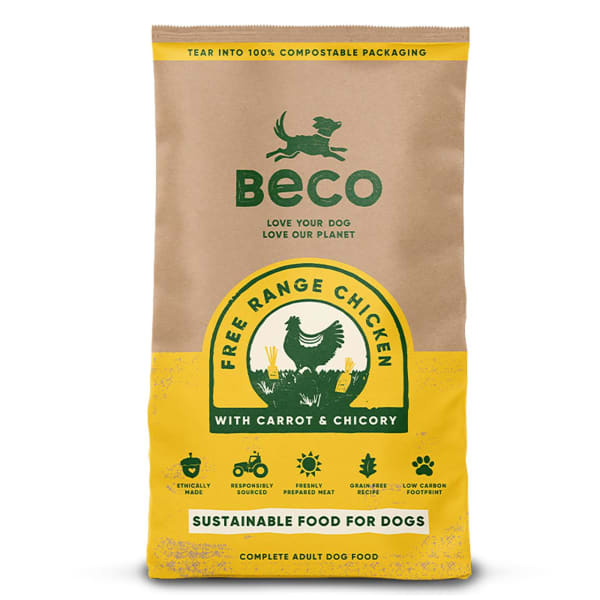 Beco Pets Eco Conscious Free Range Chicken Dry Dog Food
Beco Pets Eco Conscious Free Range Chicken Dry Dog Food
900g of Complete Pet Food for Adult Dogs Healthy Meals for Happy Dogs We all want the best for our furry friends. When it comes to food that means giving them the good stuff. It's why we...
Read more
Beco Pets Eco Conscious Free Range Chicken Dry Dog Food
Back in stock notification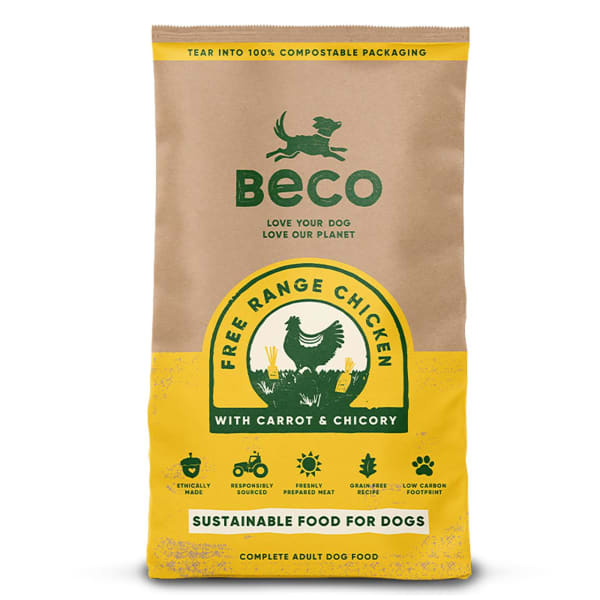 Beco Pets Eco Conscious Free Range Chicken Dry Dog Food
Beco Pets Eco Conscious Free Range Chicken Dry Dog Food
Enter your name and email address below then select which items you would like to be notified of when available.
Product details
900g of Complete Pet Food for Adult Dogs

Healthy Meals for Happy Dogs
We all want the best for our furry friends. When it comes to food that means giving them the good stuff. It's why we use freshly prepared, traceable fish or meat mixed with nutritious vegetables and pulses, to make the most wholesome and tail-waggingly tasty recipes around.

Only the Best Goes Into Beco
Free-Range Not Free Run
Our free-range chicken recipe is high in protein but gentle on your dog's stomach. Its naturally high digestibility means all the nutrients can be absorbed, helping to support a life full of vitality.
Carrots are a good source of vitamins A and C. These help support a strong and healthy immune system.
Chicory contains inulin, a natural prebiotic, thought to aid digestion and promote good gut health.
Broccoli is a true superfood. It's filled with vitamins, fibre and potassium, all key nutrients for your dog's diet.
A spoonful of spirulina is like eating a handful of vegetables. We add a little to this recipe giving the health boost they deserve.

Why Free-Range Matters
We want our chickens to live happy and healthy lives. Unlike cooped-up "free run" chickens, used by other brands, ours are free-range and left to roam outdoors, pecking at wild flowers and grubs. Just as nature intended.

Why Grain Free?
Some dogs struggle to digest certain grains, which results in gas, itchy skin or unpleasant poops. We avoid that by using vegetables and superfoods instead of grains, making every mouthful really delicious and easy to digest.

Why Freshly Prepared Chicken?
Some other foods use rendered meat and cheaper cuts, ground into powder at high temperatures, making them less nutritious and tasty. 100% of the chicken in Beco is of the finest quality, freshly prepared and cooked to lock in all the natural proteins and fats that dogs love.
Love your dog, love our planet, Nutritious superfoods, Responsibly sourced, Freshly prepared chicken, Grain free recipe, Low carbon pawprint, Sustainable food for dogs, Delicious dog food awaits, PETA - Not tested on animals, Ethical Award - Ethical company organisation
Get in Touch
Instagram
Twitter
Facebook
Daily Feeding Guidelines
Toy: 1-5kg, 25-90g
Small: 5-10kg, 90-150g
Medium: 10-25kg, 150-295g
Large: 25-45kg, 295-460g
Giant: 45kg+, 460g+

This is an approximate guide and should be adjusted according to the activity level of your adult dog. When introducing Beco food, do so gradually over a period of 7 days. Fresh drinking water should always be available for your dog. Suitable for all breeds.
Ingredients
51% Chicken (Freshly Prepared Chicken 45%, Chicken Fat 6%)*, Potato, Peas, Field Beans, Pea Protein, Chickpeas, Lucerne, Brewer's Yeast, Minerals, Vegetable Gravy, Chicory (5g/kg), Carrot (10mg/kg), Freshly Prepared Egg, Marigold, Spirulina (10mg/kg), Camomile, Broccoli (10mg/kg), Cleavers, *% calculated on a grams per 100 grams basis. This food is formulated with no added Artificial Flavours, Colour or Preservatives, with no Grain, Cereal or Gluten. It is produced in an establishment where these items may be present, and therefore we cannot guarantee complete absence of the substances. We only use freshly prepared Whole Meat source in our recipes which includes Carcass and Offal as you would find in the wild
Analytical Constituents: Crude Protein 22%, Crude Oils and Fats 15%, Crude Fibres 3.5%, Crude Ash 7%, Moisture 8%, NFE 45.5%, Metabolisable Energy 364 Kcal/100g, Omega-6 3.05%, Omega-3 0.47%, Calcium 1.14%, Phosphorus 0.86%
NUTRITIONAL ADDITIVES (PER KG): Vitamins; Vitamin A 14,400 IU, Vitamin D3 2,160 IU; Trace Elements: Ferrous Chelate of Amino Acids Hydrate 320 mg, Manganous Chelate of Amino Acids Hydrate 224 mg, Zinc Chelate of Amino Acids Hydrate 320 mg, Cupric Chelate of Amino Acids Hydrate 144 mg, Calcium Iodate Anhydrous 1.57 mg, Organic Selenium S.cerebisiae CNCM 1-3060 125 mg/kg
Feeding Guide
Breed Size &
Weight
Grams
per Day
Toy 1-5 kg
25-90 g
Small 5-10 kg
90-150 g
Medium 10-25 kg
150-290 g
Large 25-45 kg
290-450 g
Giant 45kg +
450g +
Suitable for dogs 2 months+ and for dogs with sensitive stomachs.
Customer reviews
Product reviews are filtered by language.
The following reviews are available in English.
Always a crowd pleaser

My pup loves this brand and loves this product. he was never really bothered about dinner time until i changed to this brand. its also great to know that beco are making waves and caring about what's in their product, how its made and being mindful of the impact on the environment.

Quality Environmentally friendly dog food

I have been looking for a quality environmentally friendly dog food that uses free range chicken and am pleased to have found it.The packaging is paper as opposed to plastic which is a bonus.

Instant success!

Bough for my rescue who we have had for 2months. She didn't like any (dog) food we had given her so far and appeared to have a sensitive stomach. We started with a small bag to test it but have just bought the 12kg bag. She loved it immediately and her poo was perfect in a couple of days. Thank you Beco.

My dogs fav :)

Been using for a while and my dog loves it - always an empty bowl

Great for my Bestie!

I was recommended Beco by a small independent pet shop owner and have bought it ever since. My Westie absolutely loves this dry dog food and more importantly, it doesn't upset his sensitive tummy! I've tried a number of different dog food brands which claim to be made of natural ingredients but have an adverse effect on him. Beco also use free range chicken rather than chicken 'meal'.