Skip to content
Skip to navigation menu
Baskerville Ultra Muzzle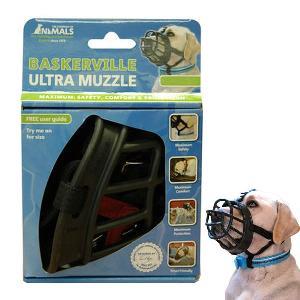 Product details
Comfortable and secure, the Baskerville Muzzle keeps your dog safe during walks.
How it works
Every element of this muzzle is designed with maximum safety and comfort in mind. Quick and easy to fit, the ergonomically designed muzzle is fitted with neoprene padding and your dog can still eat and drink through the muzzle. Two safety points keep the muzzle in place. One is designed for your dog's collar whilst the other is an optional over-head safety strap. If you dog becomes nervous or spooked easily, this muzzle will prevent them from snapping and keep them safe.
Key benefits
lightweight, bendable plastic is comfortable to wear
neoprene padding is soft against their face
allows your pet to eat, pant and drink
loops allow it to be attached to regular dog collars
optional safety strap keeps the muzzle securely in place
available in six sizes to suit most breeds
When to use it
Even the most well behaved dogs can suddenly get spooked and react in ways that they wouldn't usually. New situations can be daunting for dogs so using a muzzle prevents them from accidentally snapping at another animal or human.
When choosing a size, make sure there is a 1cm gap between the end of your dog's nose and the muzzle. This will allow you to use treats to positively reinforce good behaviour.
Size Guide
| | | |
| --- | --- | --- |
| Size | Length (cm) | Circumference (cm) |
| 1 | 6 | 22 |
| 2 | 7.5 | 26.6 |
| 3 | 8 | 28 |
| 4 | 9 | 31.5 |
| 5 | 12 | 35 |
| 6 | 13 | 41 |
Sizing: Using a soft measuring tape, measure the length of your dog's snout from the end of his nose to the point where the snout starts to slope upwards to the eyes as shown in the drawing below. Then, measure around the widest part of your dog's snout while his mouth is closed.
Customer reviews
We're sorry but there are no reviews of this product in English.