Skip to content
Skip to navigation menu
Bamboo Pod Cat Bed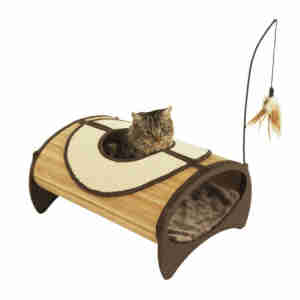 This bamboo cat pod gives your cat a snug place to sleep, scratch and play.
How it works
This cosy bamboo cat pod combines sleep and play. The circular shape gives your cat a comfy place to relax, with surrounding walls that help them feel protected. Openings at one end and on the top make getting in and out easy.
The soft faux-fur lining on the inside is comfortable for your cat to sleep on. The outside even has a scratch pad for them to exercise their claws on (saving your furniture). A teaser toy hanging from the top offers them hours of entertainment, even when you can't be at home to play with them.
Made from bamboo and eco-fibre, this pod is kind to the environment, and its natural finish will blend effortlessly into your home. It comes flat-packed, with instructions included for easy assembly.
Key benefits
bamboo and eco-fibre cat pod
padded cushion inside for sleep
scratch pad and teaser toy on the outside for play
easy access with three entrances
natural finish blends effortlessly into home décor
comes flat-packed for easy home assembly
When to use it
Cats crave their own space and love to feel secure. This bamboo cat pod gives them a sheltered spot for relaxing in the family home. The surrounding walls help them to feel insulated, while the side openings still allow them to keep an eye on what's going on around them.
If your house is often busy, it's important that your cat has a quiet spot to retreat to. This helps them to relax and stops them feeling overwhelmed. Try placing the cat pod in a quiet corner of your home, away from children and the hustle and bustle of family life.