Skip to content
Skip to navigation menu
Bakers Complete Bacon & Liver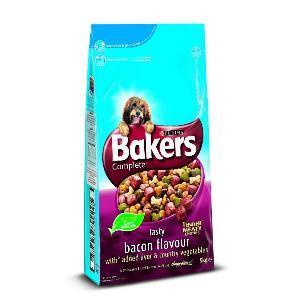 Product details
Bakers Complete in bacon and liver with country vegetables is a complete dry mix tailored to the needs of adult dogs.
How it works
Bakers Complete is packed full of goodness to keep your pet healthy and happy throughout life. It contains a combination of crunchy kibble pieces and tender meaty chunks to keep mealtimes exciting.
Carbohydrates from wholegrains give your dog the energy they need to stay active, while quality meat cuts provide them with protein to build lean muscle mass. This is important for them to stay at a healthy weight.
Added vitamin D and minerals support their bones and joints, which can become sore and swollen as they head into older age. Chicory root aids healthy digestion, which is essential for absorbing the maximum amount of nutrients from every bite.
Key benefits
rich flavour
combination of crunchy kibble and tender meaty chunks
high-quality protein
carbohydrates to give them energy
added vitamin D supports their joints and bones
added iron helps keep their blood healthy
chicory root aids digestion
When to use it
This complete mix can replace your pet's normal food for life, and it's packed full of goodness to keep them on the move into later adulthood. As your pet gets older, their joints can become sore and swollen from a lifetime of running and playing. Feeding them a mix that supports their joints can minimise this. Look out for your dog holding a limb out to you, having difficulty getting comfortable or being reluctant to walk or play.
If you think they might have a joint issue, seek help from your vet as soon as possible. They'll be able to tell you the best course of action to keep your companion comfortable and active.
Ingredients
Bakers Complete Adult Bacon, Liver & Vegetables
Ingredients
Cereals, Meat and animal derivatives (Minimum 4% fresh meat in the soft moist kernel), Vegetable protein extracts, Oils and fats, Derivatives of vegetable origin (0. 5% beet pulp in the natural and brown kernels), Various sugars, Minerals, Vegetables (minimum 4% vegetables in the green and yellow kernels). With antioxidants, coloured with and preserved with EC additives.
Typical Analysis
| | |
| --- | --- |
| Protein | 23. 0% |
| Fat | 10. 0% |
| Ash | 7. 0% |
| Fibre | 3. 0% |
| Calcium | 1. 3% |
| Vitamin A | 12, 000 IU/kg |
| Vitamin D3 | 800 IU/kg |
| Vitamin E | 60mg/kg |
| Copper (as copper sulphate) | 18mg/kg |
| Iron (as iron sulphate) | 210mg/kg |
Dosage
Bakers Complete Adult
Type of Dog
Grams per Day
Toy - 1-5kg
35-115g
Typical Breeds: Chihuahua, King Charles Spaniel, Pekingese, West Highland White Terrier & others weighing from 1kg to 5kg.
Small - 5-10kg
115-190g
Typical Breeds: Fox Terrier, Dachshund, Whippet & others weighing from 5kg to 10kg.
Medium - 10-25kg
190-380g
Typical Breeds: Cocker Spaniel, Beagle & others weighing from 10kg to 25kg.
Large - 25-45kg
380-590g
Typical Breeds: Labrador, Pointer, Setter & others weighing from 25kg to 45kg.
Giant - 45-70kg
590-820g
Typical Breeds: Great Dane, Borzoi, Bloodhound & others weighing from 45kg to 70kg.
One half pint mug holds approximately 100g of Bakers Complete.
These amounts are averages based on moderately active dogs at normal environmental temperatures. Individual needs vary and feeding should be adjusted as required to maintain your dog at a lean, healthy body weight.
Fresh, clean drinking water should always be available.
Feeding The Correct Amount
It is important to remember however that these figures are guidelines only, and there are several factors to be taken into account when assessing your pet's nutritional requirements : -
Activity level
Temperament (stressed animals burn off more calories than relaxed ones)
Metabolism (every animal is an individual with his or her own speed of metabolism; this means that 2 dogs of the same age, breed and weight could have different daily calorie requirements)
In order to provide the correct portions when feeding your dog or cat, it is also helpful to assess your pet's appetite, visual appearance and stools. Whilst poo watching does not sound particularly pleasant, it is one of the best indicators of health. Increased frequency of passing faeces, production of large quantities of stools of loose motions are often frequent signs that an animal is receiving more food than he or she requires.
It is important to obtain an accurate weight for your cat or dog, and also to weigh out the food. Guessing on both accounts gives a large margin of error.
Customer reviews
Product reviews are filtered by language.
The following reviews are available in English.
Yum

Both my girls love this food and always clear their bowls