Skip to content
Skip to navigation menu
Bakers Adult Duck And Vegetable Dry Dog Food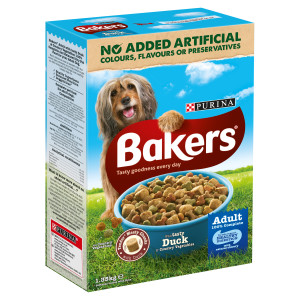 Product details
Bakers Complete with duck and vegetables is a tasty combination of kibble pieces and meaty chunks.
How it works
This complete mix is tailored to the needs of adult dogs. The combination of crunchy kibble pieces and rich, meaty chunks keeps mealtimes fresh and exciting.
Quality meat cuts give your pet a big boost of protein, which is essential for keeping their body in top condition throughout adulthood. Carbohydrates come from wholegrains to give your dog an energy boost so they can run and play all day.
Their joints are supported by vitamin D and minerals, while added iron helps to keep their blood healthy and chicory root aids digestion. The crunchy kibble pieces also help to keep their teeth clean and plaque-free.
Key benefits
protein from high-quality meat cuts
carbohydrates from wholegrains give energy
chicory root aids healthy digestion
added iron keeps the blood healthy
added vitamin D and minerals support their joints
tailored complete mix for adult dogs
When to use it
Bakers Complete with duck and vegetables can replace your dog's regular food for life. Always read the feeding instructions on the packet to make sure they're getting the right amount for their weight and breed.
As a rule, dogs should normally be fed twice a day; however, if you notice them putting on weight you should adjust their feeding amount accordingly. Speak to your vet if you have any concerns, or if your pet requires supplements to their diet.
Remember to always put fresh, clean drinking water out with and after every meal. It's important that your pet stays hydrated so they can digest their food properly.
Ingredients
Cereals, Meat and Animal Derivatives (15%1 in the Chunk), Derivatives of Vegetable Origin, Vegetable Protein Extracts, Oils and Fats, Glycerol, Vegetables (1% Dried Chicory Root (Natural Ingredient), Heart & Round Kernels: 0.6% Dried Vegetables Equivalent to 4% Vegetables), Minerals, Propylene Glycol With Colourants and Antioxidants