Skip to content
Skip to navigation menu
You're setting up the following repeat order: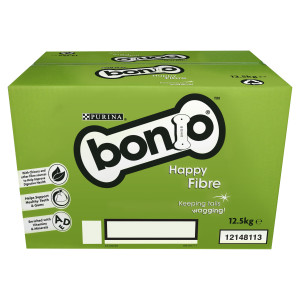 BONIO Happy Fibre Biscuit Box Adult Dog
Product details
The BONIO Happy Fibre biscuit box adult dog is packed full of crunchy treats that support your pet's digestive health and improve their teeth and gums
How it works
The recipe for this tasty snack has been developed by nutritionists and vets to create a healthy combination of ingredients that supports your dog's overall health. Each biscuit is enriched with vitamins and minerals and can be fed at any time of day to complement your pet's usual diet.
These oven-baked biscuits have a crisp texture which can help strengthen your dog's jaw muscles and improve their gum health. The texture can also gently scrape off tartar build-up as your pets chews.
Key benefits
fibre aids digestion
contains chicory to help promote a healthy gut
vitamins and minerals improve your dog's wellbeing
can be fed at any time of day as a treat
crunchy texture helps keep teeth and gums healthy
useful for training and reinforcing good behaviour.
When to use it
If your dog gets windy or bloated after eating, they could be struggling to digest their food properly. If you're unsure of the cause of their stomach problems, it's a good idea to have a talk with your vet.
This tasty treat contains plenty of fibre to help them process their food more easily. The chicory added to each biscuit is a soluble dietary fibre, which supports intestine health and provides a source of energy to boost the performance of the digestive system.
Biscuits can be given as a treat when playing with your pet, and are easy to take with you on walks to reward your dog's good behaviour. If you're teaching them a new skill, you can reinforce it by giving a biscuit whenever they perform a task correctly, so that they associate a pleasurable reward with the activity.
Customer reviews
We're sorry but there are no reviews of this product in English.