Skip to content
Skip to navigation menu
Arthri Aid Equine Powder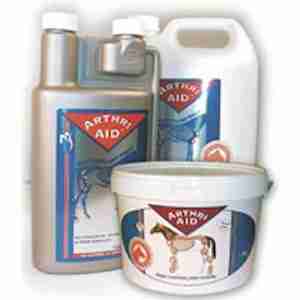 In the normal day to day life of a horse the joint cartilage is continually being broken down and replacement cartilage is being manufactured. However this balance can be upset due to increased training, trauma, competition or simply old age.

Such horses need to be assisted in the repair of the cartilage and to protect them from further deterioration in the future.

Arthri-Aid is an economical solution that may help promote long-term joint health.

ArthriAid may be one of most potent joint supplement combination on the market. This is due to its combination of three ingredients: Glucosamine, is an amino acid and assists in the body s manufacture of cartilage. Chondrotin assists in maintaining the lubrication and shock absorbsion of the joints, while MSM is a naturally occurring sulphur compound which help sooth knocks and return joint mobility. Hyaluronic acid (HA)has now been added to all ArthriAid products for increased potency.

While visible results may be seen within 10-14 days, for consistently increased mobility long term application is recommended, particularly in the case of older horses. It is also safe to use during competitions.

Ingredients:
Per 50ml - Glucosamine HCL10g,Vitamin C700mg,Chondroitin Sulphate2g, Manganese Sulphate100mg, Methyl Sulphate HA125mg, (Methane) MSM2g. Also contains Silicone

Directions:
For an adult horse 500kg - Initial Administration, 25ml twice daily. Maintenance - after 20 days volume can be reduced to a maintenance level (usually half initial intake).
Customer reviews
We're sorry but there are no reviews of this product in English.