Skip to content
Skip to navigation menu
"Best of its kind"
Applaws Dog Dry Adult Lite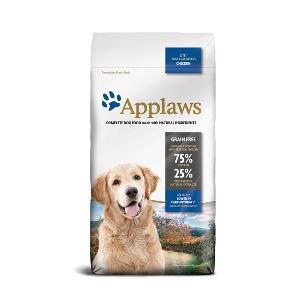 Product details
Applaws Dog Dry Adult Lite is a complete, low carbohydrate dry dog food formulated for the health and wellbeing of adult dogs.
Applaws is made with 75% protein-rich chicken and is 100% grain free, making it low in carbohydrate encouraging the development of lean muscle and promoting healthy weight for your dog.
Key Benefit:
75% chicken
100% grain free
Helps develope lean muscle
Promotes healthy weight
Customer reviews
Product reviews are filtered by language.
The following reviews are available in English.
My Yorkies adore this.

In my opinion the best dry dog food on the market .

Great food for my Bichon

My bichon loves this food, I put her on this to slim her down. I weigh it out each night and split it into two bowls, one for breakfast and the other for her tea. By evening she is standing in the kitchen making weird noises waiting for her food.

I have x3 border collies a 15 year old and two 5 year old the older lady needed to loose a little weigh and one of the youngsters is unbelievably fussy, but loves this food and crunches each individual morsel !! A joy now at feeding time

I have the fussiest dog ever, he's a bit on the porky side, and this food has been great for weight control and he even licks the bowl when finished, I have bought every leading dry dog food available & he has sniffed it and walked away. With Applaws his Tail is wagging when I open the packet to feed him. Thoroughly recommend this to anyone.

I have a very fussy eater and have tried every other food with no success. Once my Bichon tasted Applaws Chicken Lte she has not looked back. She has a corn allergy so this food is great as it contains no cereals so no itching or scratching any more. Would recommend this food for any fussy eaters out there.