Skip to content
Skip to navigation menu
Animology Clean Sheets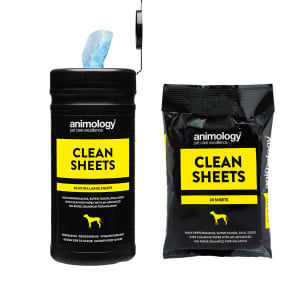 Product details
Animology Clean Sheets are extra large, super tough, dual sided pet cleaning wipes that contain an advanced Animology no-rinse shampoo formulation to help keep your pet cleaner and fresher for longer.

Key Benefits:
Dual sided – the rough side helps loosen dirt and grime from the coat and the smooth side wipes away the dirt and can be used on delicate areas.
Extra large – approximately 20cm x 27cm, each wipe allows you to clean your pet without the mess ending up on your hands.
Super tough fabric – helps prevent tearing and avoids bits of wipe breaking off and getting tangles in the pet's coat.
Degreasing – contains an active no-rinse formulation that cuts through grease and 'sticky stuff' including fox poo!
Deodorising – general dog odour will be kept to a minimum.
Vitamin enriched – enriched with Vitamin E which is a powerful natural antioxidant that helps to protect and strengthen hair, improving the overall quality of a pet's coat.
Coat conditioning – contains a built in coat conditioner to add shine and lustre to a pets coat.