Skip to content
Skip to navigation menu
Alpha Adult Dog Food Gold Moist Muesli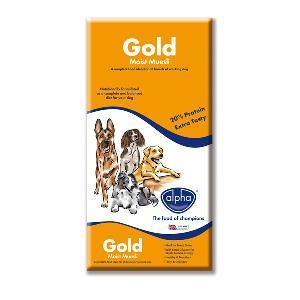 Product details
Alpha Adult Dog Food Gold
Alpha Gold 'Moist' Muesli is nutritionally formulated as a complete and balanced diet for all breeds of working dog
A unique and moist blend of the finest cereals, peas, beef chunks and wholesome biscuits that are carefully cooked to produce a highly palatable food with no need to add anything extra. The flavours are sealed with a glaze of natural glucose that provides a moist but crunchy food. Alpha Gold Moist Muesli therefore encourages a good appetite and is ideal for the fussiest of eaters
20% Protein

Natural ingredients

Highest quality cooked meat

Ideal for Fussy Eaters

Scientifically formulated for health and vitality

Easy to digest and highly palatable

Each meal is balanced and nutritionally complete

With extra glucose for quick release energy

VAT FREE in the United Kingdom
Alpha Dog Food
Alpha is the number one name in pet foods. Our expert nutritionists have created an unrivalled range of quality products with scientifically formulated recipes to satisfy all species and breeds.
It's a dog's life and Alpha has specialist feeds to suit every breed, age and type. From pet puppies to seasoned working dogs, your best friend will thank you for choosing Alpha quality foods. All available in a variety of sizes.
Your animal's health and vitality is our passion and we are committed to providing exceptional service and outstanding value. We are committed to nutritional excellence and we expect your pet to thrive on our food as much as we thrive on making it.
Alpha pet foods contain only the finest ingredients combined to create optimum nutritional advantage.
Most of our meats and cereals are locally produced to guarantee, quality, freshness and traceability. And we only source vitamins and other supplements from the most reputable suppliers.
Ingredients
Alpha Gold Moist Muesli
Alpha Gold 'Moist' Muesli is nutritionally formulated as a complete and balanced diet for all breeds of working dog
TYPICAL ANALYSIS
| | |
| --- | --- |
| Protein | 20% |
| Oil | 8. 5% |
| Fibre | 2. 5% |
| Ash | 8% |
| Vitamin A | 14, 000 iu/kg |
| Vitamin D3 | 1, 500 iu/kg |
| Vitamin E | 50 iu/kg as alpha tocopherol |
| Copper | 9. 5 mg/kg as cupric sulphate |
INGREDIENTS
Beef Nugget (Beef Meat Meal, Wheat, Wheat feed Pellets, Poultry Fat, Minerals & Vitamins), Cooked Flaked Maize, Cooked Wheat Extrusions, Syrup, Wholemeal Mixer, Cooked Flaked Peas, Wheat meal Biscuit, Poultry Fat. NO artificial flavours.
Dosage
Alpha Gold Moist Muesli
15kg - 25kg : 280g - 390g
25kg - 35kg : 390g - 510g
35kg - 45kg : 510g - 620g