Skip to content
Skip to navigation menu
Aktivait Capsules for Medium and Large Dogs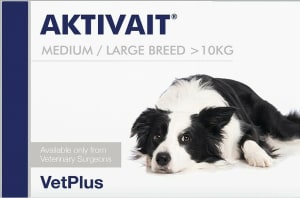 Product details
Support your ageing dog's brain function with Aktivait Capsules for medium and large breed dogs.
How it works
Much like humans, the ageing process in dogs can have a negative impact on their well-being. This is often due to 'free radicals' picked up along the way, which damage essential brain tissue and pathways. The effects can build up over time, causing disorientation and disturbed sleeping habits.
Aktivait has combined the nutrients needed to keep your dog at optimum health in a simple capsule, which works to support brain function in senior years. Each capsule contains a complex mix of antioxidants, including vitamins C, E and CoQ10, as well as alpha lipoid acid, to help the function of nerve cells.
Key benefits
slows down the ageing process
supports brain function as he adapts into senior life
helps hold off cognitive disorder development
reduces symptoms of disorientation, reducing distress
helps reduce the breakdown of healthy, established sleeping patterns in old age.
When to use it
We often think of dogs as being there to meet our needs with their joyful energy and unconditional love. It's important to remember, though, that ageing dogs increasingly rely on our support as they get older. Whether your dog is bounding into their senior years or already showing signs of disorientation, Aktivait capsules are a great way to protect their brain.
You should speak to your vet if you're concerned about your dog's symptoms in their later years and understand that seniority begins at different ages for different breeds. These capsules are specifically for medium and large dogs, though Aktivait makes them for smaller dogs too.
Ingredients
Phosphatidylserine – a phospholipid, which helps to maintain normal cell membrane function
Omega 3 fatty acids – eicosapentaenoic acid (EPA) and docosahexaenoic acid (DHA)
L-Carnitine – essential for cellular metabolism and healthy mitochondrial function
Co-enzyme Q10 – used to aid energy production, also has potent antioxidant effects
Selenium – an antioxidant and important mineral in maintaining natural cognitive function
Vitamin E – a very potent antioxidant and lipid soluble vitamin with cell-protecting effects
Vitamin C – a water soluble antioxidant vitamin
Alpha Lipoic Acid – a coenzyme used in mitochondrial metabolism, also has antioxidant effects.
Dosage
| | |
| --- | --- |
| Dog Weight | Daily Dosage |
| 10 - 20kg | 1 capsule |
| 21 - 40kg | 2 capsules |
| 40kg + | 3 capsules |
Customer reviews
Product reviews are filtered by language.
The following reviews are available in English.
Brilliant

Can't tell you how great these capusuls are

Satisfied

My dog is 10 years old rough-haired Ditch Shepherd who lost his right back leg due do bone cancer 3 years ago. This summer he started to look a bit tired and felt himself not so good. And I was suggested to give him Aktivait Capsules. After 2 weeks he started to look better and now he is full of energy and power! Amazing! So I suggest those capsules to every old dog owner to give the dog back his energy and full life.

Delivery

I have used Pet supermarket for a number of years and find them very efficient and a speedy delivery service

Alfie

Can not say how these capsules have given my thirteen year old dog a new lease of life.

Extra Lease of Life

My beloved Staffie is at least 15 years old. He was a rescue dog estimated to be around 5 years old when we got him in 2005. I think he is more likely to be 16-17 years old. Over the past 12-18 months he has been getting increasingly "vague" . The vet described it as stargazing which is a lovely expression. I read up on the net and after speaking to my vet thought Aktivaitt was worth trying. Rio has been on it now since June and although I know it is not a cure, it has certainly improved his enjoyment of life.. I would certainly recommend trying Aktivaitt to anyone who has a pet with Doggy Dementia.