Skip to content
Skip to navigation menu
Aerodawg Chamber and Flow VU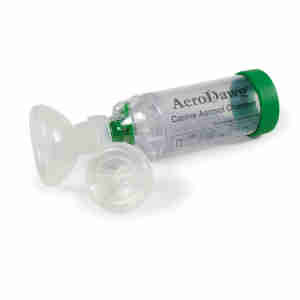 Rollover image to zoom
Product details
The AeroDawg Chamber allows you to use an inhaler to help your dog with their asthma.
How it works
Designed specifically with canines in mind, this chamber includes two mask fittings to ensure that your dog gets the most comfortable and efficient mask. The fit enhances the delivery of the inhaler, and the patented Flow Vu valve flutters when your dog is inhaling, making it easy to identify if your furry-friend is taking the correct dosage.
Key benefits
easily delivers metered dose inhaler medication
2 mask fittings ensure a great fit
Vu Flow allows you to monitor how much your pet is inhaling
anti-static chamber holds the medicine, giving your dog time to inhale
reduces the side effects associated with long term oral medication
small size (dogs weighing up to 9kg) includes 1 x small and 1 x medium mask
large size (dogs weighing more than 9kg) includes 1 x medium and 1 x large mask.
When to use it
Dogs can often develop respiratory diseases just like us. Chronic Bronchitis is one of the most common. If you dog has been diagnosed with such and given an inhaler, the AeroDawg chamber will help to administer this medicine effectively. Please note that an inhaler is not included.
Size Guide