Skip to content
Skip to navigation menu
Advantage 250 for Dogs 10-25kg - 4 pipettes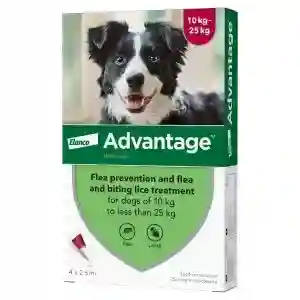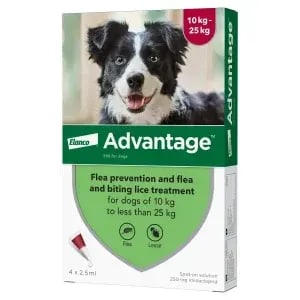 "

Advantage 250 for Dogs 10-25 kilograms treats and works to prevent flea infestations on dogs and puppies aged seven weeks and over. It kills fleas within as little as one day and can help to prevent fleas for up to a month.

How it works

Advantage 250 for Dogs 10-25 kilograms is a simple pipette-distributed liquid which helps to kill fleas, their eggs, and their larvae, which should end your dog's flea infestation within a day of use.

Application is simple. Place the tip of the pipette onto the back of your dog's neck and squeeze gently to empty the liquid onto their skin, ideally at two spots: at the base of the skull, and two to three centimetres further back.

Flea infestations can be difficult to treat because adult fleas begin to lay eggs almost as soon as they mature, beginning a cycle of infestation that can be very difficult to break. By killing both the fleas and the larvae, Advantage helps to remove most fleas from your dog.

Advantage 250 for Dogs 10-25 kilograms works for up to a month, which helps to prevent a return of the infestation. It is also completely waterproof, so your dog can stay active while being treated

Key benefits
fast acting formula treats infestation within a day.
kills fleas and larvae, which helps to break the cycle of infection in your dog
can be used preventatively
works even when your dog gets wet.
When to use

Advantage 250 for Dogs 10-25 kilograms should be used immediately after a flea infestation is discovered. Fleas cause your dog immense irritation and left untreated can lead to harmful skin conditions and infections, including some forms of dermatitis. It is important to act quickly to break the cycle

Advantage also works preventatively. When used this way, Advantage should be applied every month.

"
To ensure that you read the most up to date information about this product, please check the VMD's Product Information Database.
Legal category: NFA_VPS | Advantage 250 for Dogs 10-25kg
| | | | |
| --- | --- | --- | --- |
| Dog Weight | Product | Quantity | Dosing Schedule |
| 11 Kg - 15 Kg | Advantage 250 | One pipette | Monthly |
| 16 Kg - 20 Kg | Advantage 250 | One pipette | Monthly |
| 21 Kg - 25 Kg | Advantage 250 | One pipette | Monthly |
Customer reviews
Product reviews are filtered by language.
The following reviews are available in English.
With regards to advance flee treatment

I'm very happy with the advantage flee treatment as it means all my 4 dogs don't get flees no more and it mean I do the have to put my dogs through flee combing them after every time they go out in our garden to play and go toilet, thank you to pets supper marketl

Swapped.

We did use frontline but when our bichon frise started to bite his back end,our vet suggested advantage so we gave it a try and its worked brilliantly. We have a staff x boxer and works fab on him also. Same does both dogs .

advantage

excellent product delivery very good

Advantage

All good - used for many yrs Pet Supermarket is easy to shop & they are competitive

Advantage 250

Have used Advantage for years. This is a great price for a great product. Speedy delivery. Thank you.