Skip to content
Skip to navigation menu
Adaptil Junior Collar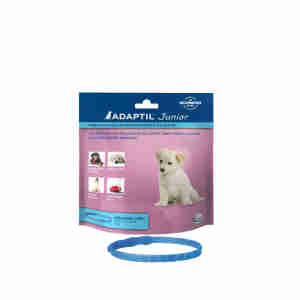 Rollover image to zoom
Product details
The Adaptil Junior Collar is an effective way to help comfort your new puppy and assist with their learning.
How it works
Mother dogs release comforting messages to their puppies through the mammary zone. Known as pheromones, these dog appeasing messages are odourless and can only be picked up on by dogs. Adaptil is a synthetic copy of these messages and provides a strong signal of comfort and security for your puppy. By using the junior collar, it helps to introduce your puppy into the home and minimise distress.
Key benefits
comforts your new puppy
reduces night-time cries
helps your puppy to feel self-assured
can be used on puppies from 8 weeks old
clinically proven and used by veterinarians
When to use it
When we bring new puppies into our homes it can be a really exciting time for us. However, this can sometimes be a daunting experience for your pup. They may cry at night, feel separation anxiety from you when you leave the house and be confused by the objects in their new home. Adaptil can help to ease this transition and help your puppy feel secure with their new family.
One collar will last 4 weeks and it can be cut to size. Fits necks up to 37.5cm with a maximum weight of approximately 15kg.
Customer reviews
Product reviews are filtered by language.
The following reviews are available in English.
Wow - nights are easier!

When we first got our puppy Hugo he did not sleep at night. We were having awful nights it was becoming unbearable. We saw a video for this new collar and wanted to give it a go. AMAZINGLY it worked - first night it was on we did not hear a peep...and we have not heard anything since. Really please with it