Skip to content
Skip to navigation menu
Adaptil Calm Refill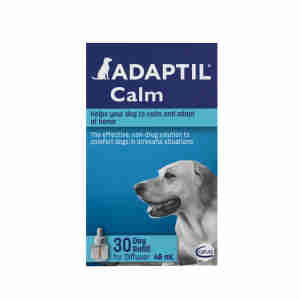 Rollover image to zoom
Product details
Adaptil Diffuser Refill helps to keep adult dogs and puppies calm during stressful situations.
How it works
The refill works with the Adaptil Diffuser Plug-in to release a synthetic version of the 'canine-appeasing hormone', a pheromone released by mother dogs. This has a reassuring and comforting effect on dogs of all ages, helping them to stay relaxed during events that could otherwise cause stress, such as being around new people or loud noises from fireworks. As well as keeping your pet happy, this product also reduces the chance of them indulging in destructive behaviour.
Key benefits
natural way to manage stress in dogs
works with the Adaptil Diffuser Plug-in
releases a calming pheromone to relax and reassure dogs
works for both puppies and adult dogs
non-sedative and non-systemic: can be used with other medication
covers 50 to 70 metres squared
has no smell and no effect on humans
each refill lasts up to thirty days.
When to use it
Lots of events can trigger stress in dogs. Some common ones are firework displays, house moves and being left alone with new people. Sensitive dogs can even become anxious if their environment changes; if you buy them a new lead or rearrange the furniture, for example.
It's often easy to tell if your dog is stressed as they exhibit physical symptoms. Some big indicators include your pet cowering away from people, hiding, barking or whimpering for no discernible reason, going to the toilet inside and/or being destructive.
If you anticipate an upcoming event will stress out your dog, you should plug in the diffuser 24 hours before it is due to take place. The plug-in should be left on constantly in the room where your pet spends most of their time – even overnight. Make sure the diffuser isn't blocked by curtains or furniture; the hormone needs room to circulate and the vapour can leave a mark on fabrics if it comes into direct contact with them.
If you've never used Adaptil before, remember to pick up a plug-in and refill at the same time.
The refill lasts 4 weeks (roughly 30 days).
Please note, this 3rd generation refill is compatible with 1st generation diffusers
Customer reviews
Product reviews are filtered by language.
The following reviews are available in English.
Adaptil helps my boarders!

I am a dog minder/boarder and use these diffusers in the dog bedrooms to help them settle at night. They are away from home and their owners, some get stressed, these help them to sleep peacefully me too if theres no crying!

Adaptil plug-in

Brilliant product, have one in each room the dogs have access to and have since they were puppies.

adaptil

I love this product as I have an anxious rescued Lurcher and it really works for us

Keep calm

This works for my dog when drops and other things were useless. It also lasts and so can be plugged out and in again for several occasions when dogs get anxious

Adaptil diffuser

Excellent product. Helps keep my dogs calmer during firework night.