Skip to content
Skip to navigation menu
Adaptil Calm Home Diffuser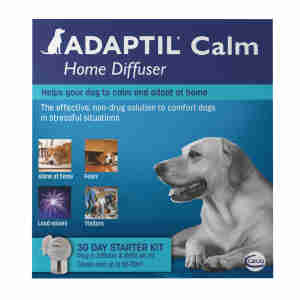 Rollover image to zoom
Product details
Adaptil Diffuser Plug In and Refill helps keep puppies and adult dogs calm in stressful and unfamiliar situations.
How it works
Adaptil works by releasing a synthetic version of pheromones – the same scent that a mother dog sends out to reassure her puppies that they are safe. It creates a pleasant environment, easing your dog during stressful situations. The diffuser should be placed in the room where your pet spends the most time.
The diffuser will cover an area of 50-70 sq m (one floor of a three bed property) and last for 4 weeks. The diffuser plug should be changed every 6 months.
Key benefits:
creates a pleasant environment
reduces stress
improves behaviour
non-sedative and non-systemic so it can be used alongside other types of medications
covers area 50-70m squared
clinically proven to help reduce inappropriate behaviours caused by stress
used by vets and pet owners worldwide for over 14 years.
85% of Adaptil users said they were willing to repurchase
When to use it
Stress is just as normal in dogs as it is humans. There are lots of things that could stress your dog out. Firework displays, being left at home alone, or traveling long distances could all upset your furry friend.
Sometimes even little things could make them uncomfortable. If your dog's sensitive to stress, then any little change could make them anxious.
If your dog has started to hide from visitors (or even you and the family), or whimpers, shakes, or barks for no apparent reason, they could be suffering from stress. The diffuser can help to keep them happy and relaxed.
Pack contains:
Plug-in diffuser
30 day refill (48ml)
Customer reviews
Product reviews are filtered by language.
The following reviews are available in English.
Great product

Does exactly what it says it does

Excellent product

Made a great difference to my dogs they sleep better at night

Seems to work

The dog seems calmer. Is now sleeping in the kitchen. One of the refills doesn't work so will have to swap lids when going to use it with the on that does

good product. late delivery

Product helps to keep my dog calmer especially when I have to go out but, took too long to be despatched so missed bonfire night fireworks

HOT PROduct

Amazed how calming this was on bonfire night. Had tried the collar and calming drops before but the plug in was much better put in place about 4 days in advance and lasting for a long time afterwards. Only thing is it does get hot!