Skip to content
Skip to navigation menu
ADVANCE Young Sterilized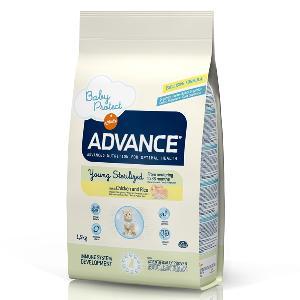 Product details
ADVANCE Baby Protect Young Sterilized.
Specially formulated for sterilized cats up to 36 months old.
Features & Benefits:
CHICKEN AND RICE, MAIN INGREDIENTS - Excellent sources of proteins and carbohydrates that are easy to digest, for optimal intestinal health.
OPTIMAL GROWTH - High content in energy and nutrients like protein, fats, vitamins and minerals to ensure optimal growth and development of your cat.
DIETARY FIBER AND L-CARNITINE - These help reduce the amount of calories in the food and to transform fat into energy, thus promoting a reduction of your cat's fat deposits.
ACTIVE IMMUNOGLOBULINS - Natural proteins that help maintain intestinal health.
TAURINE AND OMEGA 3 FATTY ACIDS - Essential for maintaining optimum vision.
NEUTRAL pH - The balanced combination of minerals and other ingredients facilitates proper urinary tract function, thanks to an optimum urine pH.
Feeding guide:
Age of sterilized cat

Female kitten

Male kitten

-

Weight

g food

Weight

g food

4 months

1.3-1.7 kg

45-60 g

1.7-2.5 kg

60-75 g

5 months

1.6-2.3 kg

50-65 g

2.1-3.1 kg

60-80 g

6 months

1.9-2.5 kg

55-70 g

2.4-3.5 kg

65-80 g

12-36 months (adult weight)

2.6-3.7 kg

45-65 g

3.5-4.8 kg

50-80 g
Ingredients
Ingredients: Chicken (16.5%)maize glutenrice (14%)dehydrated pork proteinsmaizedehydrated poultry proteinhydrolysed animal proteinwheat glutenanimal fatpea fiberbeetroot pulpmonocalcium phosphatedehydrated eggvegetable fiberfish oilyeastcalcium carbonatepotassium chloridesoya oilplasma proteinsfructooligosaccharidessaltnucleotides.
Customer reviews
We're sorry but there are no reviews of this product in English.