Skip to content
Skip to navigation menu
"Best of its kind"
ADVANCE Veterinary Diets Atopic Mini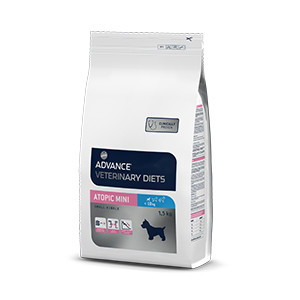 Product details
Advance Veterinary Diets Atopic Mini has been specifically formulated to prevent adverse reactions to food in dogs with atopic dermatitis under 10kg
This dog food is ideal for those suffering chronic pruritus, intestinal problems with pruritus enteritis allergic otitis externa and also regeneration of the skin's lipid barrier, inflammatory bowel disease and other inflammatory skin problems.
Key Benefits:
Essential omega 3 fatty acids (EPA and DHA) help reduce inflammation and the clinical signs of atopic dermatitis.
Linoleic acid (omega-6) decreases the transepidermal water loss causing xerosis and improves the appearance of the skin and hair.
Aloe vera gel helps maintain the optimum level of epidermal lipids and the integrity of the cutaneous barrier.
Olive-leaf extract supports anti-inflammatory action and keeps skin healthy.
New source of proteins: trout and potato protein lowers the risk of adverse reactions to food that can appear in animals with atopic dermatitis.
Collagen peptides contribute to greater healing of wounds and reduced skin inflammation.
Zinc and yeasts help restore the skin, hair and their protective barrier function.
Contraindications:
Allergies to ingredients listed in the Ingredients section Hyperlipidemia, Pancreatitis
Ingredients
Maize trout rice maize gluten trout flour animal fat potato protein beetroot pulp hydrolyzed collagen yeast hydrolyzed animal proteins soya oil fish oil vegetable fiber monocalcium phosphate calcium carbonate potassium chloride salt olive leaf aloe vera.
Customer reviews
We're sorry but there are no reviews of this product in English.